The type of software you use to edit Zoom recordings depends on the kind of video editing you want to do. For example, you can:
In our post, we'll talk about these 2 different ways to edit Zoom recordings depending on the detail of the edits you need to make.
At the end, we'll even cover some advanced options, like Adobe Premiere Pro & Apple Final Cut Pro X, for teams who want to learn more about sophisticated video editing. We'll also provide a few pointers for recording better-quality Zoom videos to improve video editing (and your final product).
Let's get started!
Explore the power of text-based video editing.
Try Reduct for Free →
1. Trim Recordings & Caption Videos: Zoom's Built-In Editor
The Most Basic Video Editing Option
If you just need to trim your Zoom meeting recording — say you want to cut out the "hellos" or the "goodbyes" at the beginning and end of the call, or you want to shorten the video into smaller clips — you can use Zoom's built-in video editor to modify your recording's playback range.
Here's how it works:
On Zoom.us, navigate to the Recordings tab on the left-side menu — Note: You can use Zoom"s editor to edit both cloud and local recordings as long as the local video files are downloaded on the device you"re using to edit.
Choose the recorded meeting you want to edit.
Click the play button on the video thumbnail to open the video playback screen.
From the video preview, click the scissor icon in the bottom right corner.
Click and drag the sliders to the desired start and endpoints on the timeline, then click "Save" when you're done trimming.
Beyond this simple trimming, you can use Zoom to caption your videos (if you enable Zoom's audio transcription option). To learn more about using Zoom's transcription to add closed captions to your videos, check out Zoom's video tutorial on this page.
2. Edit & Create Shareable Highlight Reels from your Zoom Recordings: Reduct.Video
Manage Hundreds (or Thousands) of Zoom Recordings & Edit As Easily As Editing Text
If you want to put together engaging highlight reels or create video stories from multiple Zoom recordings, you can take video editing a step further with our online video editor, Reduct.
Instead of operating like a traditional timeline-based video editor (like iMovie), Reduct is a word-based video editing platform that transcribes Zoom recordings and lets users edit recordings by editing the transcript. It"s so easy to use that anybody who"s edited a text document can edit videos in Reduct.
Many teams that use Zoom like Reduct because it's entirely web-native and integrates with Zoom's platform, so users can push their Zoom recordings directly into our editor and store their recordings in the cloud. We allow free unlimited video storage.
Our platform is especially beneficial for users with a large library of Zoom recordings to manage.
Reduct also has collaborative tools so you can work with team members on reviews and edits in real-time. Let's walk through the process of editing a Zoom recording in Reduct.
Uploading & Storing Zoom Recordings
First, upload your Zoom recordings to Reduct by clicking on New recording button and then click on Import from Zoom button.
If it's your first time using Reduct (and our Import from Zoom feature) our platform will prompt you to sync your Zoom account and walk you through those steps.
Once you're connected, all of your Zoom cloud recordings are available to upload and push over to Reduct.
Note: Reduct does not allow you to push local recordings into the platform. You can always upload those from your computer, but our one-click import only works for cloud recordings.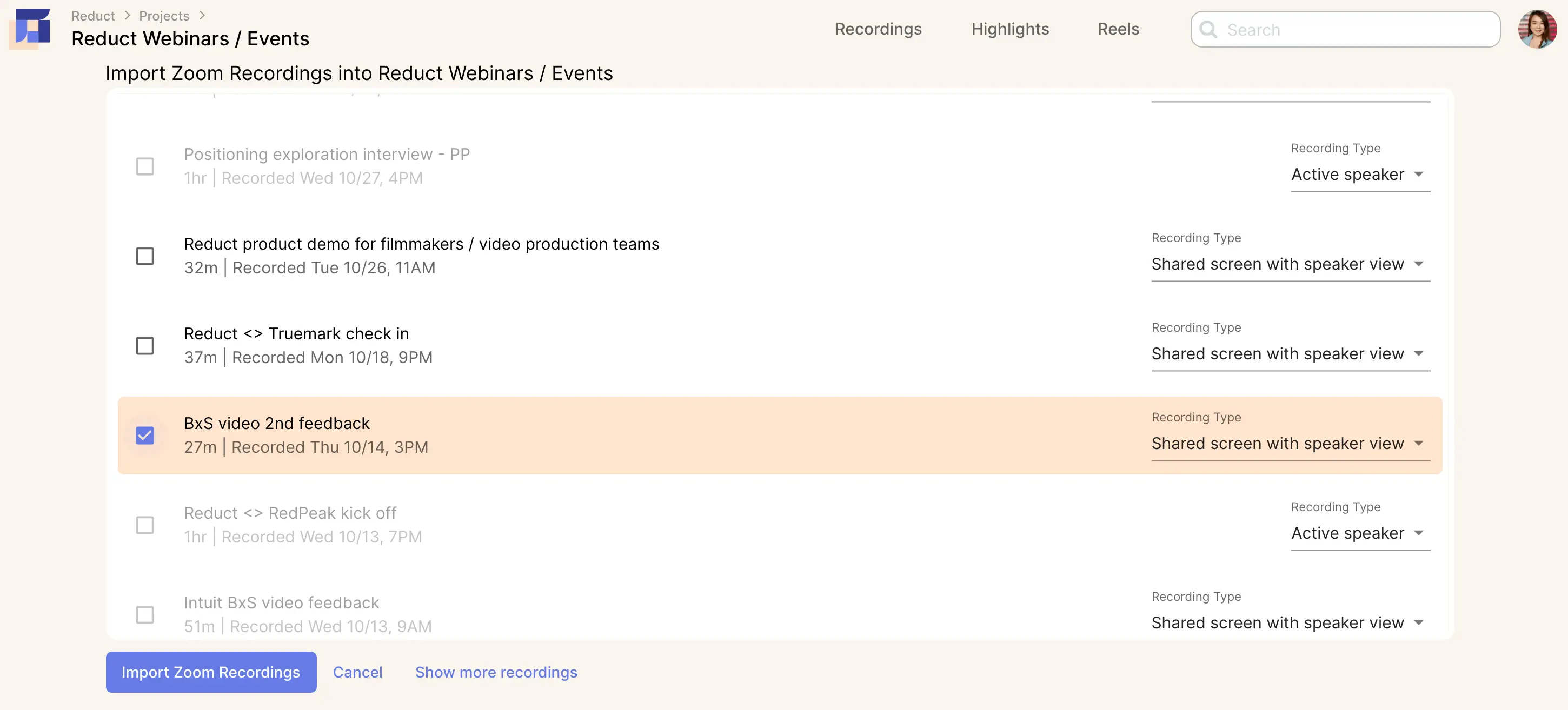 From that point on, any time you select the Import from Zoom option, you'll be directed to your Zoom recording library where you can choose the videos you want to upload.
Remember, we offer unlimited free storage space so you can upload as many Zoom recordings as necessary without extra fees.
Transcribe using Reduct
Reduct is a transcript based text editor that allows you to edit your recordings by editing the text from the transcript. Once you upload your Zoom recording, Reduct generates an automated transcript. By linking every word in the transcript with the exact moment it was said in the video, Reduct allows you to precisely edit video just by working with transcript text.
Editing Zoom Recordings by Editing the Transcript
Once you have your transcript in hand, you can begin video editing!
To start, we suggest reading down through your transcript (a.k.a. Doing an initial review) to pinpoint all of the most important moments in your Zoom recording. As you review, you can highlight the moments that stick out to you with your cursor.
With Reduct you can edit your recordings using 3 easy steps:
Select & highlight video:
Reduct works by transcribing the media you upload or import into the platform. Create video highlights by highlighting the transcript.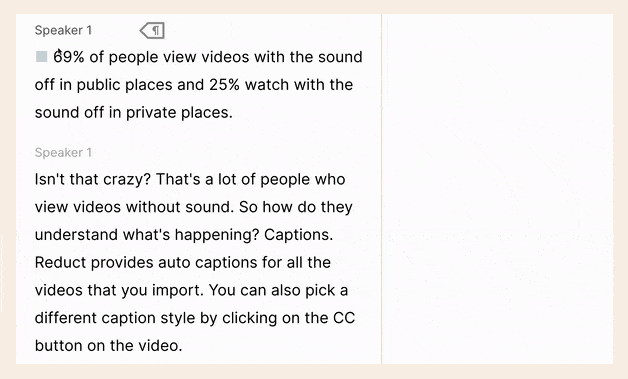 Compose story with highlights:
After you've gone through the transcript and made your Highlights, you can use those clips to build a longer video narrative — a Reel. You can compile Highlights from one recording, or use clips from multiple different recordings in one Reel. Just drag relevant moments & drop them to compose a story.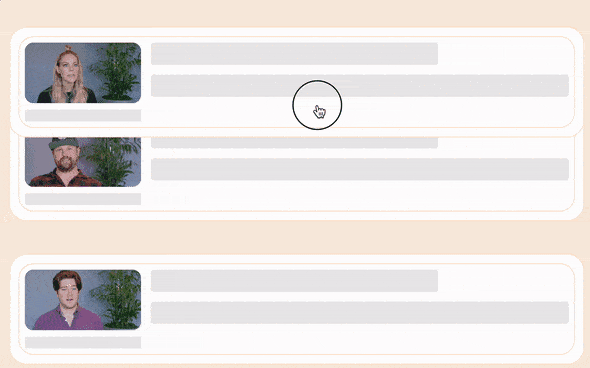 Effortlessly cut videos with text:
By striking out text in the transcript (via our Strikethrough feature), cut disfluencies, filler words, and irrelevant tangents from your story.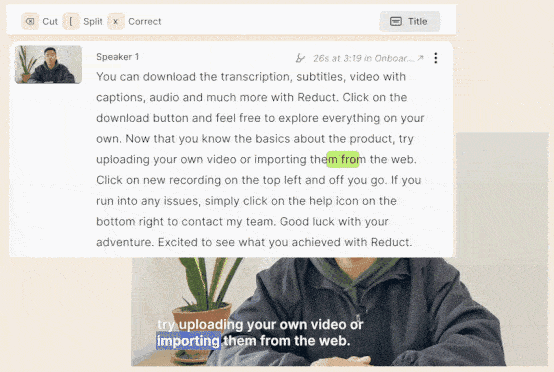 💡 Pro tip: You can add text slides between video clips to provide viewers with additional information or insert images in your video presentation.
💡 Add captions to your video to improve its accessibility. Our editor automatically captions your videos by pulling transcript text into your Reel. However, you can choose to disable captions.
Once you've made the final changes, you're ready to download your video or share it with others. You can share highlight reels with external collaborators and stakeholders by sending them a share link. More on sharing below.
Read More: How to Edit an Interview Video in 5 Simple Steps
Easy Integration with Adobe Premiere Pro & Apple Final Cut Pro
If you're looking for more advanced video editing features, try Adobe's Premiere Pro or Apple's Final Cut Pro X.
Reduct integrates with these two advanced video editors, so you can use Reduct to do the bulk of your video editing and then push your video project to Adobe Premiere Pro or Apple Final Cut Pro X, re-link the footage and make your finishing touches.
This is faster than doing all of your trimming and clipping in these complex platforms, and it also allows users with no video editing experience to assist with the rough cut.
Reduct removes the pain of working with
video.