Descript has become pretty popular since it debuted because it gives users a simple but unique way to edit video footage and create fresh video content. It gives users word-based video editing capabilities to make polished video projects such as YouTube videos, podcasts, and more. It really only shines when you need to transcribe or edit a single video file.
With that, Descript isn't for everyone.
In cases where you're dealing with a large volume of videos, and working in teams — for example researchers analyzing dozens of video interviews; filmmakers who need to condense many hours of video footage into a finished narrative; marketers who need to clip, compile, and share video testimonials — Descript may not be the best solution.
So we put together this post with a variety of Descript alternatives, starting with our transcription and intuitive video editing software, Reduct, so you can find the software solution that makes sense for what you need.
Explore the power of text-based video editing.
Try Reduct for Free →
In our post, we cover:
Reduct allows you:
Get high-quality transcripts in minutes.
Edit videos 10x faster by crossing out, selecting, rearranging texts.
Quickly search, tag, comment for easier team collaboration.
To see how our platform works, get a demo.
Reduct.Video: Our Transcription, Word-Based Video Editing, and Video Analysis Software
Reduct.Video and Descript work in a very similar way: both platforms transcribe video files and allow users to edit those video files just by editing the text of the transcript.
However, Reduct and Descript had different beginnings.
Descript started as a podcast editor, so Descript's platform is loaded with advanced audio and video editing tools that allow users to edit down their footage and polish off their video projects. It's primarily a video editing tool that allows you to create content that looks polished.
Reduct was born when I saw the power of video as a communication medium — to capture, understand, and share human stories. But with all of that power comes pain. So. much. pain. Getting everyone on a team to access the footage, the time it takes to review the footage and distill key information, tools to build narratives, share, and iterate together. All of this is HARD, unless you have extensive experience. Even if you do, there is no tool available to make this fast and easy for your whole team.
So we've created Reduct to be not just an intuitive video editor, but also something that lets you:
Work with hours and hours of video, using an ordinary web browser
Search through their entire video library to find specific video clips and thematically pull related content
Keep track of important information, great, quotes, and share-worthy moments
Analyze video and transcript to find patterns and themes
Collaborate with other team members, and easily share edited video via share link.
As a result, our platform appeals to more than just creatives and filmmakers: Research agencies and UX research teams, content marketers and brand storytellers, video journalists, and customer success teams all rely on Reduct to utilize their video footage.
And since our platform is designed for users with diverse backgrounds, collaboration is a big focus for us when building Reduct. Instead of offering video software that you can install and run from your own computer, Reduct is entirely web-native; all of the videos you upload to Reduct are housed online so they can be accessed by other team members and shared with whoever you need. We also give teams tools to collaborate on video projects; users can share folders of videos, easily see all of the highlights and tags within their transcripts, and create Highlight Reels from your entire video library.
In these next sections, we talk more about our:
Computer and human transcription services
Video editing tools
Video analysis tools
Collaborative features
Computer & Human Transcription
We offer both computer and human transcription because we don't want to limit our users to just one option: there are certain cases when computer transcription works just fine and other cases where you need human transcription.
Computer transcription (a.k.a. Automated transcription) is the go-to when you're working with really clear audio, want a transcript back instantly, and don't necessarily need a completely polished transcript for your work. Computer-generated transcripts are typically about 85% accurate, but they're more prone to error if:
Your audio has background noise
Your video contains multiple speakers or speakers talking over one another
Speakers use a lot of jargon (technical, industry-specific terms)
Speakers have unclear accents
But we make all of our computer transcripts editable if you want to correct any inaccuracies.
Human transcription is done by real people — trained in transcription & transcription quality assurance. It's best when you need a high-quality transcript that you can trust will be error-free. Human transcripts are about 99% accurate because real people can pick up on things computers can't (slang, jargon, accents, etc.) and work around unclear audio. But our human transcripts are also editable if you want to make any tweaks.
We offer 24-hour human transcription and charge only $1 per minute of audio — compared to Descript's $2 per minute of audio rate — so we're one of the most affordable overnight human transcription services available.
Here's how our human transcription works:
After you upload your audio/video file into Reduct, we break it up in 5-minute chunks.
Then, we send each 5-minute chunk of audio off to a human transcriber. Splitting videos up like so not only speeds up the transcription process, but it also means no single transcriber has access to your entire audio file (so you don't have to worry about privacy or security).
Once each transcriber transcribes their chunk of video, we use voice recognition and machine learning-based algorithms to identify and assign speakers.
Then, we piece your transcript back together and deliver it back to you! Rest assured, your transcript goes through a few rounds of quality control as we put it back together so you always receive a totally polished transcript.
Note: Even if you opt for human transcription, we'll still send you a computer transcript to review in the meantime. Then, once our team of human transcriptionists is done transcribing your audio/video file, the transcript will automatically update in Reduct.
Intuitive Video Editor in Your Browser
As we mentioned earlier, both Descript and Reduct are "edit video by editing text" video editors. But Descript's word-based editing features only make up a small portion of their entire video editing suite: many of Descript's video editing tools require some training to understand and fully utilize.
One of our biggest goals when building Reduct was to make video editing more accessible to everybody. So although we don't offer things like multi-layer editing or give users tools to mix and master audio, our platform lets you edit down hours of video footage, pull video clips, and build new video narratives all based on a transcript, without any traditional "video editing" knowledge required.
Even more, you don't need to download or install anything. You just log on to Reduct on a browser, and access your team's entire video repository. All video search, clipping, and rendering is done on our servers. Not only does this simplify collaboration, it also means that you don't need a beefy computer to work with video. Even with a MacBook Air, your computer won't sound like it's taking off into space. And yes, you can go ahead and keep all of those Chrome tabs open. (We don't judge!)
At a feature level, in Reduct, you can:
Select sections of text, "highlight" them and save them as the video clips you want
Combine different clips into the final video work by dragging and dropping video clips into sequence
Edit out sections of video (repetitions, tangents, filler words) by striking through text
Add text slides between clips to build context and provide users with additional information or insert images in your video
Add word-by-word caption on your video with literally no effort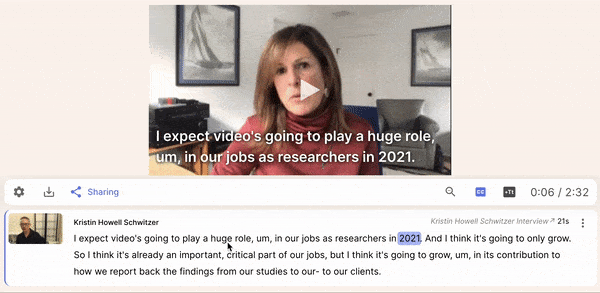 When building video narratives, our software creates seamless transitions between video clips and automatically captions your videos by pulling transcript text (but you can always disable captions with the click of a button).
Our video editor is designed to uncomplicate video editing, that way anybody can use Reduct to find great stories in their video footage, and put together engaging video narratives. And if someone wants to add final polish to their Reduct edited videos, we also integrate with advanced video editors like Adobe Premiere Pro and Final Cut Pro X. This is how you get the best of both worlds: Reduct for faster editing (no more timestamps) and professional software for more advanced touch-ups.
Streamlined Video Analysis
What also sets us apart from Descript is our video analysis features. Apart from needing to edit video, we've found that a lot of people — not just researchers — need to use their videos and transcript to gather important information and insights. While Descript is a video editor, Reduct lets you edit and analyze video.
First, we have highlighting and tagging: As you playback through your video footage and read along with the transcript, you can save key moments, quotes, and stories by marking the transcript text. Then, you can categorize all of your highlights by adding tags to them. All of your tags are searchable, and we provide tools for filtering, sorting, and grouping so you can look at the data in different ways. This list goes on. We also have NLP-recommended tag suggestions, and codebooks in Reduct to help standardize your team's tagging vocabulary and improve the organization of your research.
Our Fuzzy Search functionality comes into play when you need to:
Search back through your video library to find specific moments
Analyze multiple transcripts at once to pinpoint patterns between research and pull related video clips
Find something on the "tip of your tongue" — when you remember a great moment but don't remember the exact words verbatim
Fuzzy Search scans through your library searching for concepts and themes, not just exact search terms, so it can pull video content related to your search query. For example, if you do a search for "shoes," it'll pull up "boots," "sandals," "flip flops," "sneakers," "Nike," and videos with other related dialogue.
Team Collaboration & Simple Sharing
Since most people who work with video need to communicate with others on edits and send their video projects to stakeholders, Reduct is designed with collaboration and file sharing in mind. The first way we enable easier collaboration and sharing is by allowing users to store all of their videos in Reduct.
After you upload a video into Reduct, it is saved in your video library so you can access it whenever you need. When working with other team members in Reduct, you can give them permission to view, comment on, edit, and even share your videos, too. When you grant other users editing access, you can work together on video edits in real-time.
To improve the organization of your video library and group your video files by project, you can create Project-Based Folders. You can also add team members to these folders and give them access to all of the videos housed within (and any new videos you may add in the future). When you share these folders with other team members, you can also give them the ability to add their own videos to the folder; this is beneficial if you have more than one person gathering video footage for a project.
If you want to share your edited videos or transcripts with users outside of Reduct, you can send them a share link instead of downloading the video from Reduct and sharing a large video file. Reduct's share links work in most email platforms, messengers, and workplace collaboration tools.
We allow unlimited viewers and commenters on Reduct, so you can comment back and forth with other team members as much as you need and share your videos without restrictions.
For users who want to share their videos on social media and across the web, we support 1080p exports using the .mp4 format (an extremely common video format).
TypeStudio: Descript's Newest Competitor
In TypeStudio, you can:
Receive an automatic transcription of your video files — TypeStudio also uses speech recognition to offer multi-language transcription
Edit down your video footage by striking through text
Add captions, subtitles, and text overlays to your videos, or add images to your video
Resize your video files
Convert your edited video/transcript into an online blog post
TypeStudio is fairly new— founded in 2020 — so we haven't heard much about them and they haven't received too many user reviews; but all of the reviews they have earned are pretty positive. Their platform appeals mostly to podcast editors and other creators, it's also good for social media teams who want to repurpose old content.
As far as packages and pricing go, TypeStudio's basic packages are pretty limiting in terms of how much video content you can upload and edit. Their custom packages — with custom pricing — are more on par with what Descript and Reduct offer.
Other Descript Alternatives
Descript, Reduct, and TypeStudio are all word-based video editors, but if you're looking for a different type of Descript alternative — say just video transcription software, a more advanced video editing software, or a replacement screen recording software — consider some of these other options below.
Alternative Video to Text Transcription Software
Some popular video transcription software options include Otter.ai, Sonix, and Trint. Each has different features to cater to different needs. We should note, though, none of these options provide human transcription.
Otter.ai
Sonix is a good choice for people who need to transcribe and translate their audio because they offer transcription in over 40 languages. In addition to transcription, Sonix"s platform also lets you add captions and subtitles to your videos, collaborate with other team members in real-time, and share your videos to the web. Sonix also integrates with a variety of other software so you can enjoy a seamless workflow.
Trint
If you have an iPhone or a Mac, consider Apple's video editing software. It's a bit more complex than word-based video editors, but Apple still claims it's easy to use. With iMovie, you can create movies from your photo and video library, add music and other sound effects, add special effects like filters, adjust the speed of your footage, and more. It's good for editing together vacation highlights, not as good for editing down spoken video content.
DaVinci Resolve
Lightworks is a video editing software built by video editors; it's a popular option amongst many creators and is best suited for users who have a lot of video editing background. Lightworks has different offerings for different end users: One package for newbies who need to cut clips together; another for YouTubers, podcast makers, and gamers; a super-robust option for broadcasters and film makers. Lightworks is also a good option for teams who need to collaborate on edits since it's web-hosted.
Alternative Screen Recording Software
The built-in screen recording tools in most of our cell phones and laptops are lacking in functionality and unsuitable for making professional screengrabs. If you want to record virtual meetings or video presentations for other coworkers and stakeholders, consider Loom, Vimeo, and Screencast-O-Matic.
Loom
Vimeo is a video sharing platform that also offers users features to edit their video footage and record new video content, including screengrabs. If you already use Vimeo to share other video files, then their screen recorder is a great option. Vimeo's screen recorder lets you record just your screen or both your screen and your camera; however, their video editing features for screen recordings are lacking. Vimeo lets you store all of your screen recordings in their platform and notifies you when anybody has viewed or commented on them.
Screencast-O-Matic