Hiring professional video editors can be costly, and if your budget cannot cover that expense, you may need to take on the task of video editing yourself. However, learning to use professional video editing software demands a considerable amount of time, patience, and dedication.
There's no denying that the internet is teeming with options when it comes to simple video editing software. The burning question, however, is which one is the best fit for you.
If you are looking for a quick and easy fix to edit your videos without investing much time or effort, simple options like iMovie or Windows Movie Maker may suffice. But if you want to embark on a journey of learning and mastering the ins and outs of professional editing software like Adobe Premiere Pro or Final Cut Pro, you might need to look for other options.
In this article, we will review the 9 best easy-to-use video editing software for beginners into two categories:
1. Video Editing Software For Quick Results
2. Video Editing Software As a First Step to be a Pro
Let's dive right into it.
Video Editing Software For Quick Results
⭐️⭐️⭐️⭐️⭐️
"I don't even know if the project that we're doing would have been as attractive for us if Reduct didn't exist because it'd be so much harder to leverage and utilize all the footage that we've got." - Rob Volpe, CEO at Ignite 360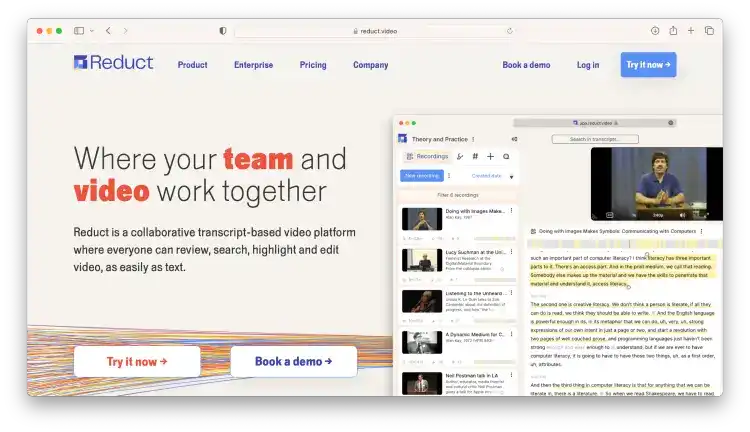 Reduct is one of the easiest video editing software out there that uses a highly accurate transcript as the basis for editing video. Simply by editing the transcript, as you would a text document, you can edit the video footage. This makes it easy for beginners to get started using our software– even without watching hours of tutorials or reading long how-to documents.
Reduct's text-based approach also saves you lots of time on editing– up to 12 times faster than using a timeline video editing tool to do the same job.
With Reduct, you can review your footage and highlight the important sections in the transcript as you go, instead of spending hours fast-forwarding and rewinding your video to clip the exact moments you need. Then, you can 'tag' your highlights to categorize clips, organize your material, or improve the searchability of your video clips.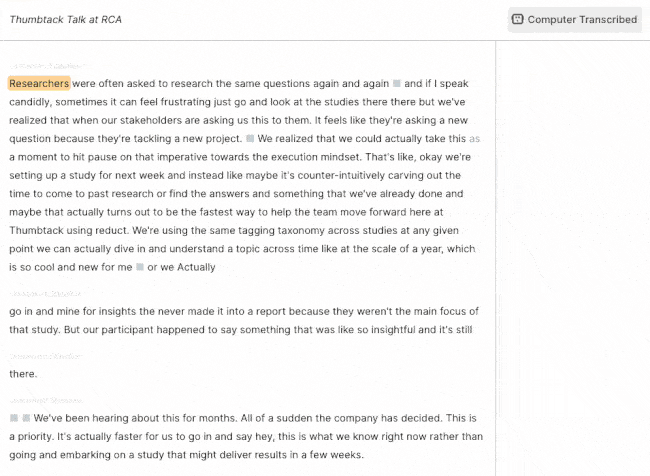 For video editors just starting out, working with other team members and getting feedback from more experienced editors is extra important. Because the platform is entirely web-native, you can store all of their videos in the cloud and give your team members access to view, edit, download, and share their video files.
Explore the power of text-based video editing.
Try Reduct for Free →
⭐️⭐️⭐️⭐️
"Great tool for those who want to create in the visual medium." - Jonathan Beatty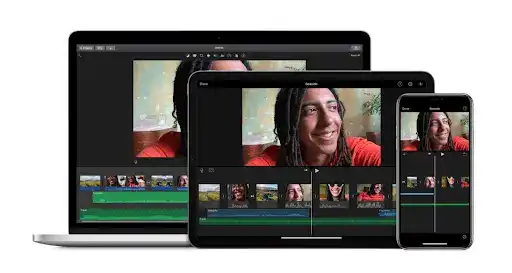 If you want to put together video presentations, simple Youtube videos, and short clips— and you're an Apple user, iMovie is perfect for you.
iMovie uses simple drag and drop tools for trimming videos based on a timeline, and it gives you tools to add titles, music, and effects, including ready-made transitions, split-screen effects, and audio fade.
Unlike Reduct, iMovie is not a web-based platform and only lets you work on video files that are saved to your computer (or device you're using to access iMovie). The software has no specific collaboration tools included, and to get feedback from team members, especially those not using an iOS device — you have to download and send the file directly to each person or share it on a third-party platform.
An equivalent editing software for PC is Moviemaker, which offers very similar tools and features for PCs.
Learn about the 4 best iMovie Alternatives.
⭐️⭐️⭐️⭐️
"Powerful and User-Friendly Video Editing with Filmora: Create Stunning Videos with Ease" - Homer Velasco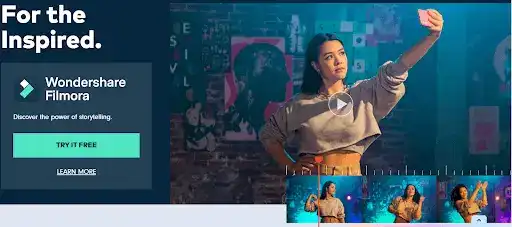 Wondershare's Filmora revolves around the term 'simple'. Its video editing features include video effects, green screen, keyframing, motion tracking, color grading, speed control, and more.
If you're looking for an easy video editing tool for dynamic videos, including sports footage, music videos, and fast-paced videos in general, it's a great option. Reviewers also like Filmora because it works with a wide variety of video formats.
For talk-based video content, the editing features of Filmora may be excessive, as its main focus is on fast-moving content with added trendy visual effects. The Filmora software is quite heavy and requires 10 GB of free hard-disk space, as well as 8GB of RAM for HD and 4K videos.
Uncover the Top 4 Alternatives to Wondershare Filmora
⭐️⭐️⭐️⭐️
"This Makes Me Look Good, without Being a Total Video Geek" - Kevub Stouffer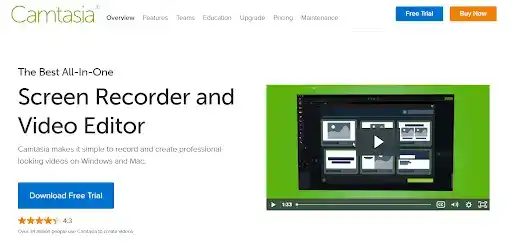 A screen recorder and video editor in one, Camtasia is available for both Windows and Mac. It brands itself as an easy video editor that's quick to learn, without a big budget or fancy editing skills. Its template-based process is suitable for creating and editing video tutorials, how-to videos, YouTube videos, training videos, explainer videos, and video lessons among other uses.
Camtasia's built-in editor is timeline-based, and like Filmora, provides drag and drop tools to add text, transitions, and visual effects.
This software is best used for very simple video projects. If all you are looking for is to add a little polish to your videos, Camtasia is all you need. Its editing features are limited, however, so if you plan to knock up highlight reels or need to review large amounts of footage, you'll be better served with different software.
⭐️⭐️⭐️⭐️
"Descript makes multimedia content creation fun, easy, and polished even for new content creators!" - Kyle Marian Viterbo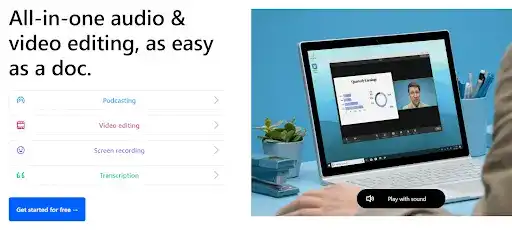 Another option you can go for is Descript, a video and audio editing software, mainly for editing podcasts and screen recordings. Just like Reduct, it allows you to edit both audio and video by editing text. In Descript's own words, it is a "multitrack audio workstation, complete with everything you need to create a podcast, from recording to rough cuts, mixing to publishing".
As Descript's primary focus is recording and editing podcasts, it comes with comprehensive audio mixing and editing tools, which will be surplus to your needs if you are more interested in creating films or documentaries, for example.
Learn more: 11 Best Descript Alternatives to Try For Your Next Video Project
⭐️⭐️⭐️⭐️
"Almost perfect for beginners! Packs pretty much all you need to get started with basic video editing" - Romi Kalathiya

Adobe Premiere Elements was designed with beginners in mind. Despite being from the same family as the advanced Adobe Premiere Pro, it is a simpler, much more intuitive tool than its professional video editing counterpart.
A timeline-based video editing software that works well for quickly editing video clips using real-time 'guided edits' to add effects, overlays, transitions, and animations.
Elements, similarly to iMovie and Moviemaker, is more consumer-focused than some of the other video editing apps on this list, making it more suited to creating personal video content.
Video Editing Software As a First Step to be a Pro
If you plan on learning how to use professional video editing software, like Adobe Premiere Pro and Apple Final Cut Pro, it's worth taking the time to choose video editing software that will help ease you into those robust platforms.
Here's a list of video editing software that will act as the first stepping stone into the world of professional video editing.
⭐️⭐️⭐️
"The free express version offers a lot of useful features and is quick to learn. The quality of the interface makes the software pleasant to use." - David G.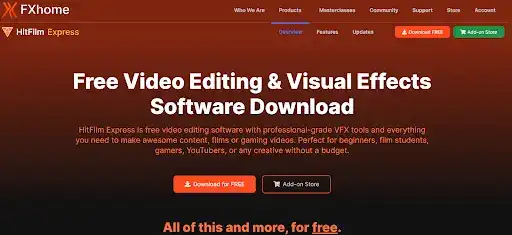 Just like Camtasia and iMovie, Hitfilm Express is also a timeline-based video editing program that's designed for beginner video editors, YouTubers, gamers, and film students. It's widely considered to be one of the best free video editing software available and uses many of the same editing tools and techniques as more advanced software. It's a great starting point for progressing to pro software down the line.
Although onboarding is not as quick and simple as some of the tools described in the previous category, you can find tutorials online.
⭐️⭐️⭐️⭐️
"A great price and gives you lots of horsepower to create outstanding videos." - Wil Davenport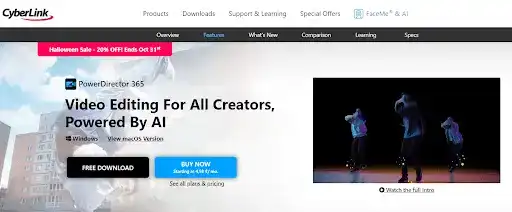 Cyberlink's PowerDirector 365, gives you a wide range of video editing tools and is designed for a range of user levels, from beginner right up to pro. It's a whole suite of video editing software for Windows that you can add to in stages as you get more proficient.
PowerDirector's base software provides a range of video templates that are easy to start using (after viewing some tutorials). As you get comfortable with the software, you can explore more sophisticated techniques and effects.
⭐️⭐️⭐️⭐️
"Advanced and creative video editing software" - David Medina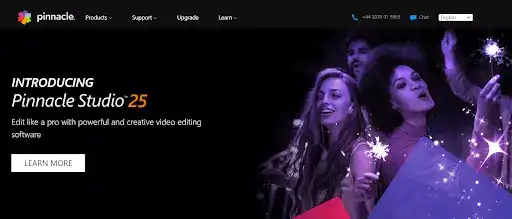 Aimed at users who want to "edit like a pro", Pinnacle Studio provides many of the tools you get with pro-level video editing software, including video masking, multi-cam editing, motion tracking, split-screen video, color grading, audio editing, overlays, transitions, custom titles, and more.
It comes in Standard, Plus, and Ultimate versions, allowing you to upgrade as you get increasingly proficient with its tools.
The Bottomline
When choosing which video editing software to use as a beginner, always consider two things:
What kind of videos do you want to edit? (Does your footage contain a lot of dialogue, like interviews, documentaries, and presentations or are you putting together music, sports, dance, or lifestyle videos with little to no speech?)

Are you planning to learn pro-level software in the future?
If you're editing word-based videos and want to get going as quickly as possible, then Reduct has the shortest learning curve of any of the software on our list.
Reduct's intuitive, text-based approach to video editing allows anyone who has ever edited a document to start working on video projects right away. Get started with Reduct today!
Reduct removes the pain of working with
video.