Dovetail is a popular tool amongst researchers because it has features to help you analyze research footage and simple editing tools that can be useful for creating video presentations. However, some users switch to other video analysis and editing software because Dovetail's transcription isn't always perfect, and the platform lacks certain features to make engaging highlight reels and video presentations, fast and easy.
When talking with our customers who used Dovetail before switching to Reduct, they've mentioned that Dovetail can be glitchy or difficult to use. Some of the more specific complaints we've heard include:
Dovetail's clipping tool isn't completely precise. Dovetail's cutting tool is not 100% precise, and the video editing features are a bit clunky, so it's not uncommon for users to end up with video deliverables that have stray words or parts of the video they don't want (and can't remove).
Dovetail only offers computer transcripts rather than both human and computer transcripts. Computer transcripts are not as accurate as human transcripts — 85% accurate vs. 99% accurate — and are particularly problematic for recordings featuring multiple speakers, speakers with accents, and poor sound quality. So if your Dovetail transcript has errors, you'll have to spend the time to clean up the transcript or find a third-party transcription service and transfer material back and forth.
Dovetail's transcription search feature only works if you remember the exact word or phrase of the passage you're looking for. If you can't remember the exact word or phrase of the passage you're searching for, you'll have to read through the entire transcription again to find it.
Dovetail's built-in sharing and collaboration features only work if you're sharing or collaborating with another Dovetail user. If you want to share your videos with anybody outside of your organization, you have to download the video file and send it to them via email or Messenger.
So we put together this post with information on a few Dovetail alternatives for you to consider. This post covers our video analysis and editing software, Reduct, and two of the other best alternative software solutions that let you better utilize your video footage in your research workflow.
Looking for a solution similar to Dovetail that offers more sophisticated video editing features and transcription options? Try Reduct for free. During your free trial, you can test our video transcription, video analysis, and video editing features to see if they work for you and your research teams.
1. Reduct.Video: Our Collaborative Video Analysis and Word-Based Editing Software for Researchers
Reduct is an all-in-one video analysis and word-based video editing tool designed for UX and qualitative researchers. It"s entirely web-native, too, so research teams can store all of their recordings in the cloud, work together on projects in real-time, and share their transcripts and videos with others online.
After uploading (or importing) your video file to Reduct, we let you choose between computer and human transcription. Once your transcript is ready, you can start your qualitative data analysis right in Reduct and put together video presentations from your insights.
Below, we walk through Reduct's tools for researchers.
Super Accurate, Fast Transcripts
Reduct accepts both video and audio files and gives you a variety of ways to upload your content into the platform. Once uploaded, Reduct's software automatically begins transcribing your video/audio to text and delivers a computer transcript back to you in ~15 minutes. You can also opt for human transcription if you"re working with poor-quality audio or need a super polished transcript for sharing. Regardless, Reduct gives you a computer transcript to get started right away.
Computer transcription: About 85% accurate. Best when working with really clear audio or speakers, one-on-one interview recordings, or testimonial videos.
Human transcription: About 99% accurate. Recommended when your recording has a lot of background noise, speakers have unclear accents or use a lot of jargon words, speakers who are hard to hear, or multiple speakers who speak at once.
All of our transcripts are editable, too, so you can correct any inaccuracies while you do your initial read-through. We use speech-recognition AI to identify different speakers, and you can name each speaker at once.
We offer the cheapest 24-hour human transcription service — charging only $1 per minute of audio. Our process lets us transcribe quickly without sacrificing quality; here's a peek:
First, we break up your video into five-minute chunks and send it to various human transcribers. (This also keeps your content more secure since it ensures no single transcriber can access your entire audio file/transcript.)
Each transcriptionist transcribes their chunk of audio, adding in speaker names where they can identify them.
Then, we use speech recognition AI to scan your entire audio/video file and identify speaker names throughout.
Next, your transcript goes through another round of quality control.
Finally, we piece your transcript back together and deliver the final product to you!
You can also read our other post for more information on transcribing interviews for qualitative research.
Video Analysis
After you have your transcript in hand, you can review your research recordings with both the video file and transcript at your disposal. Transcripts in Reduct are interactive, too, so you can click around while performing text analysis and playback your video at a faster speed.
As you review, you can use our Highlight and Tagging features to keep track of data and findings.
Highlights
Whenever you come across a particularly important segment, quote, or insight, use your cursor to highlight it in the transcription: Our platform automatically pulls that section of video as a clip (a.k.a. a Highlight) so you can categorize your data, share insights with others, or use video clips in research presentations. Plus, the section is also highlighted in the transcript so you can easily spot it when scrolling.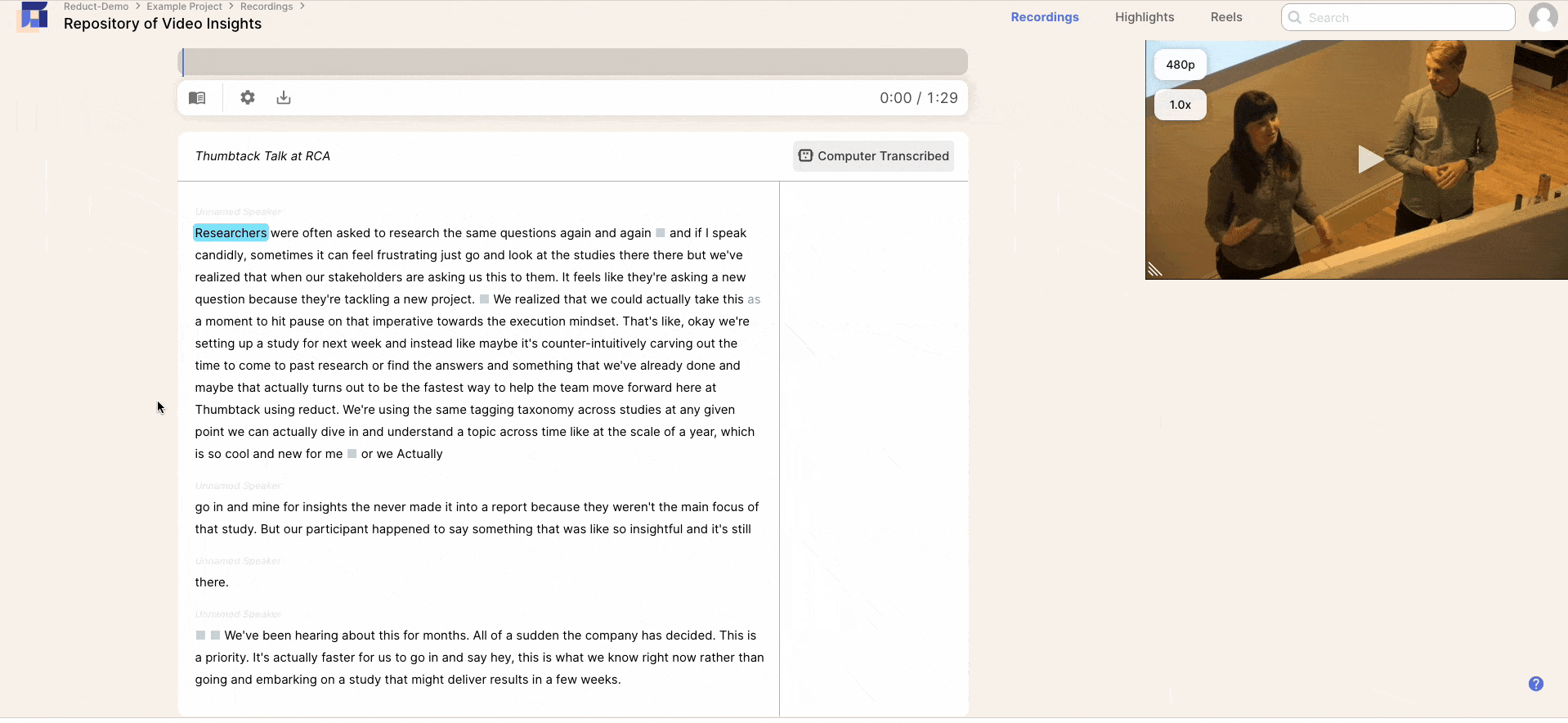 Tagging
To better organize your video clips and discover themes in your user research, you can also tag Highlights. Then, if you want to view all of your Highlights on that same topic in the future, you can use the filter functionality to easily find all Highlights under that tag and retrieve all of your research data on the topic.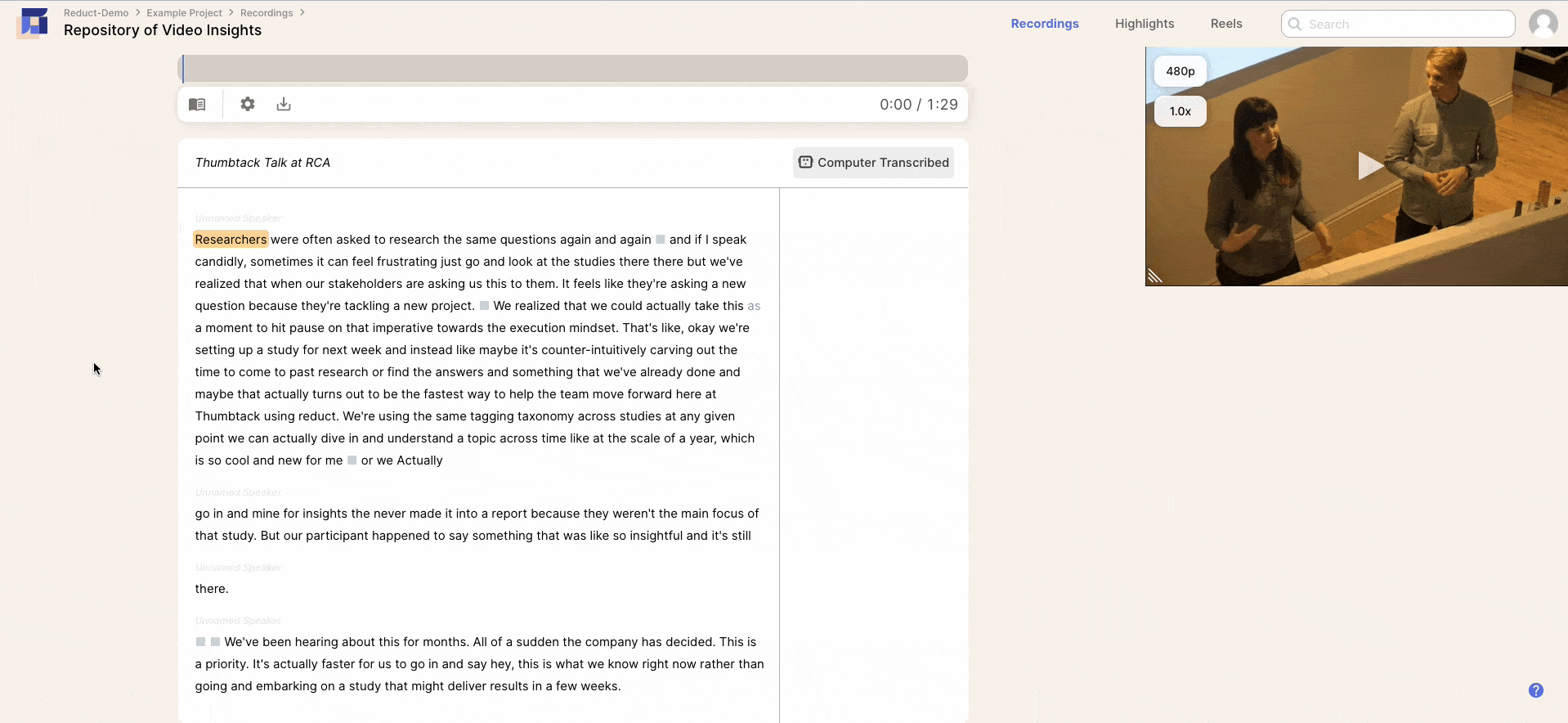 Tag Management: Codebook
If you're working in a group with several other researchers, collaborative tagging can get messy if you don't establish a common language. Reduct's codebook allows you to keep your tags organized: with descriptions to keep everyone on the same page, and groups to add another level to your synthesis. And if that's not enough, we also use natural language processing to auto-suggest likely tags based on your previous tagging.
Fuzzy Search
While you can search back through your highlighted material by filtering with tags. You can also use Fuzzy Search to search back through your transcript or analyze multiple transcripts at once. Fuzzy Search analyzes your video files and transcripts by concept and theme, instead of the exact search term, so it's easy to type a particular word, phrase, or topic into Fuzzy Search and see all of your related research. This is especially useful for researchers because people don't phrase things in the exact same way, but Fuzzy Search can still help you identify common themes and patterns.
For example, if you know the speaker said something about "getting into college," but the real phrase was "being accepted to college," our AI still knows what you are looking for and will direct you to the correct passage.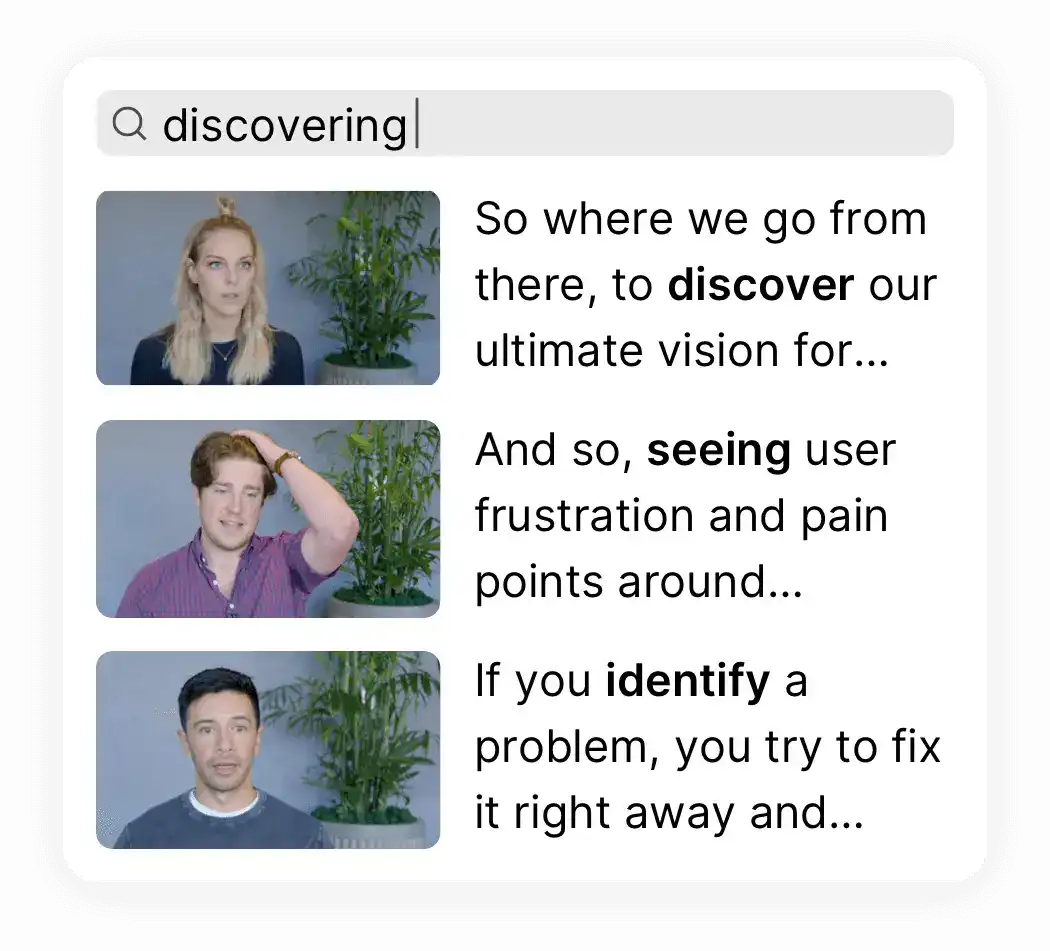 Video Editing Tools
Once you've completed your initial analysis and highlighted the key moments in your transcript, you can use your transcript to edit your research footage and create a high-quality video presentation. Our platform lets you edit interview videos, create single video files, or use footage from a variety of different sources to build a narrative. Let"s talk about those features more below.
Highlight Reels
As mentioned above, whenever you highlight a passage from the transcript, Reduct saves the corresponding video clip to your library.
So if you created Highlights during the analysis stage, you already have a library of video clips to use in your final video.
Now, creating your video is as easy as dragging and dropping the desired clips into our Highlight Reel maker. A Highlight Reel is where you create your final video and is composed of a collection of Highlights. It's also simple to rearrange the clips into the right order to really help your story flow.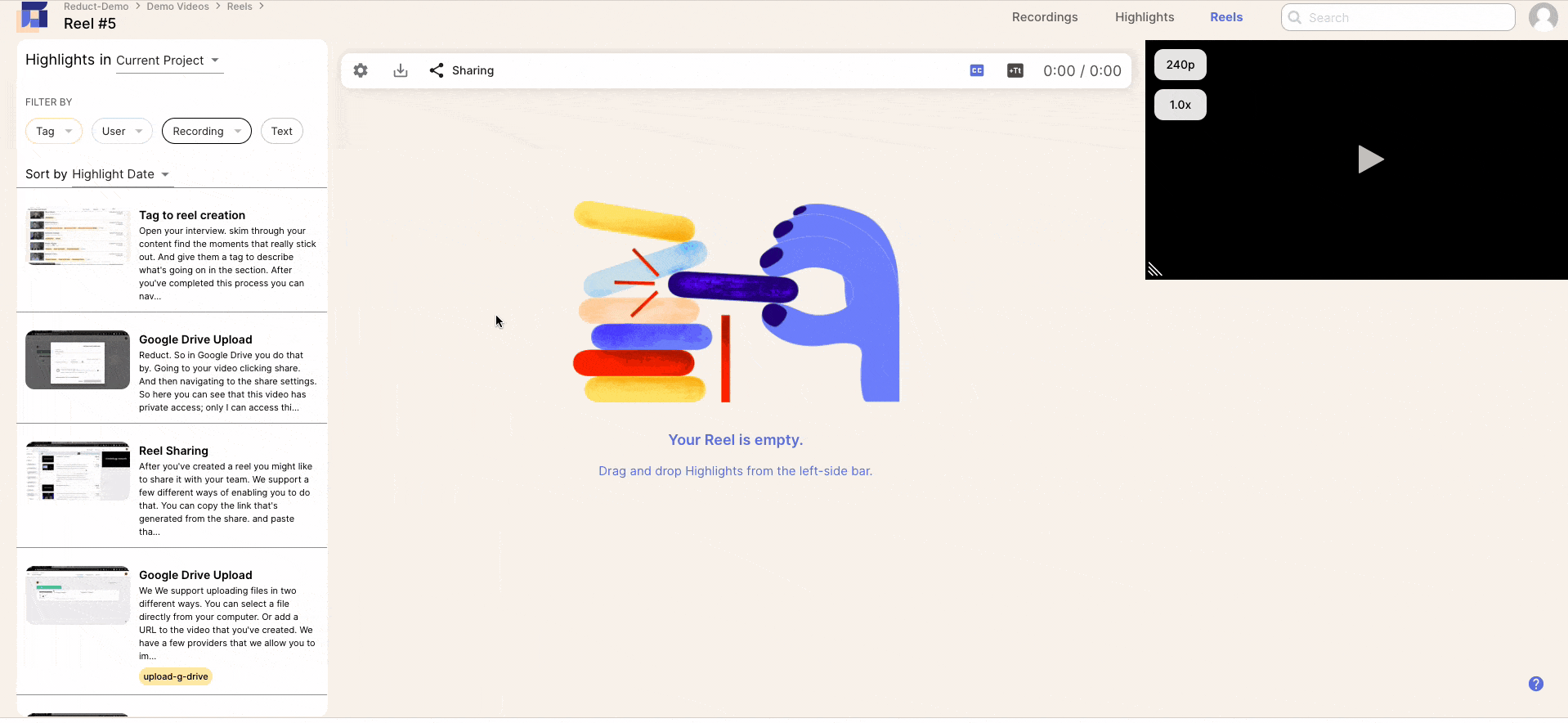 Strikethrough Editing
If you want to edit out sections of video (i.e., long tangents, the questions you're asking, and filler words like "umm") from your video footage or Highlight Reels, you can use the Strikethrough editing tool to do so. Just strike through the text in the transcript and those sections will be removed from your video.
Don't worry, though, Reduct is non-destructive, so it doesn't actually "delete" these sections from your original video footage. You can just as easily select strike-throughs and hit "Restore."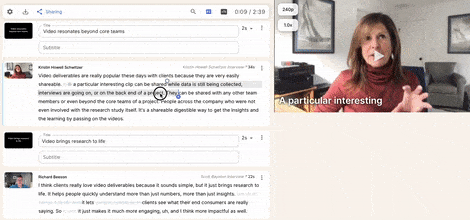 Add Captions and Title Slides
As you play your Highlight Reel, you'll notice that our software automatically adds captions to each video clip. You can turn this feature off, though it's very useful to improve video accessibility, and your stakeholders will really appreciate being able to play the video on mute. Several customers have also told us that these captions just help communicate insights better - there's something about reading + watching that helps you absorb content much better.
You can also add slides to customize your video project, add images or information, build context, or emphasize key concepts.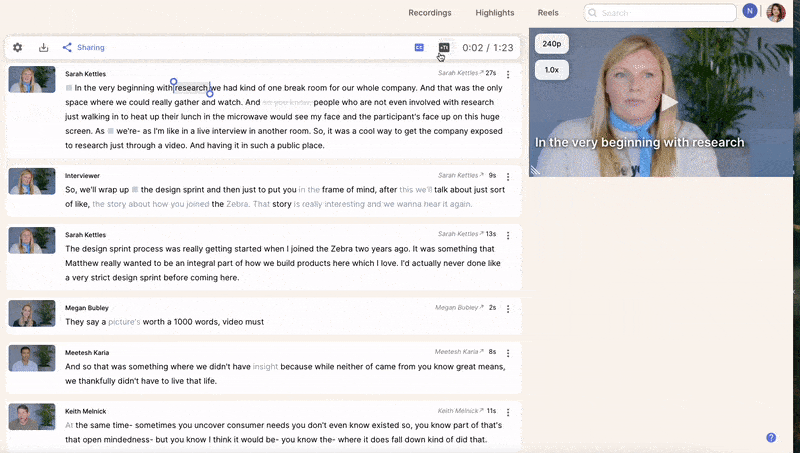 Collaborative Features For Research Teams
A Research Repository of All Your Video and Audio Content
Reduct acts as a centralized repository for all of your research team's video and audio content. This has several key benefits to any research team.
First, with a research repository all of your team members access, research becomes less siloed. Team members can see what others have researched, and build on each other's insights rather than recreate them all from scratch.
Research repositories can also save valuable time. When the product team has a question, it may very well be that the answer came up in a previous research project. With an easy-to-search repository, researchers can just search through existing material to surface the answer to the product team right away. This can result in immense time and cost savings, by delivering insights without needing to create an entirely new study from scratch.
And finally, research repositories can give highly engaged stakeholders a way to self-serve insights. While this may not be appropriate for everyone in the organization, you can invite stakeholders and clients who want to dive into the research into the project, and collaborate with them!
Project-Based Folders
If you are working on multiple projects, you can keep your research organized by storing videos in project-based folders (a.k.a. dedicated folders of videos for different video projects). This makes it easy for everyone involved in that project to have access to the same video footage.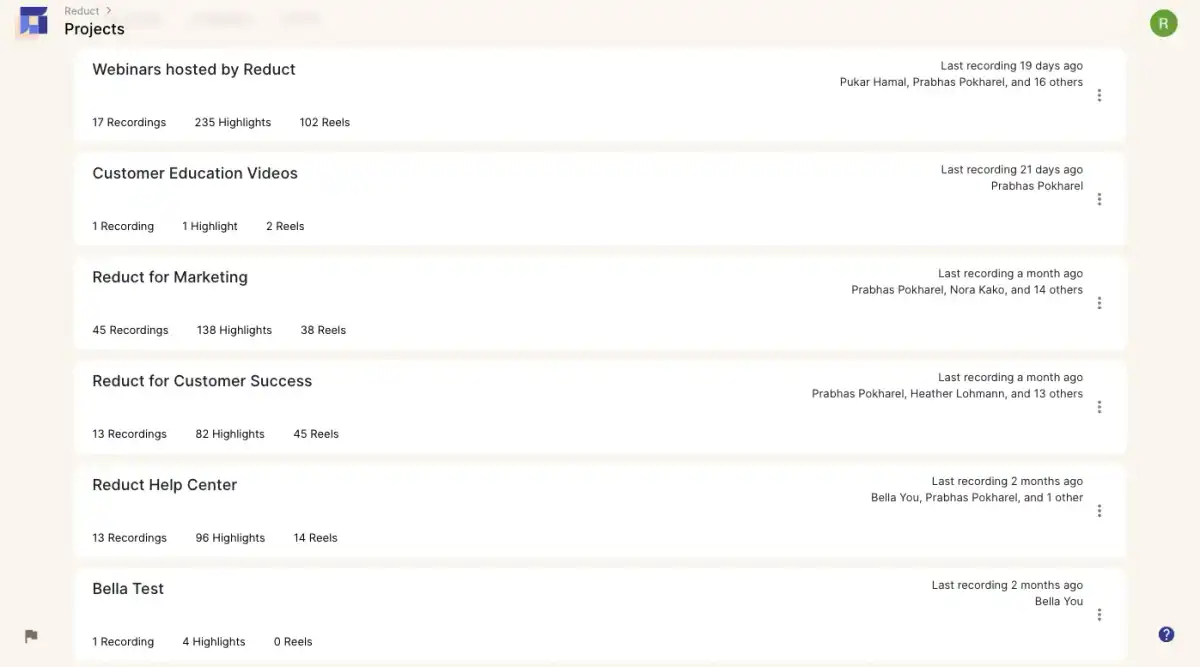 Adding Other Users to Your Research Projects
If you want to add team members to your project, you can do so and choose to grant commenter or editor access.
Commenters will be able to open, view, and comment on videos while editors have all of the commenter's permissions plus download, edit and share capabilities.
Once made a team member, that person will see any new videos added in the future and they can add their own videos to the folder. This is particularly helpful if you have multiple people gathering video footage.
Presence
Need to collaborate in real-time? We have a brand-new feature for better collaboration! Multiple profile pictures show up when everyone jumps on the same project. Click on any profile pic, and you get to that user's selection in the transcript. Now you can watch video together (aka "follow a leader") and work together on highlighting/tagging, for seamless discussion and idea exchange.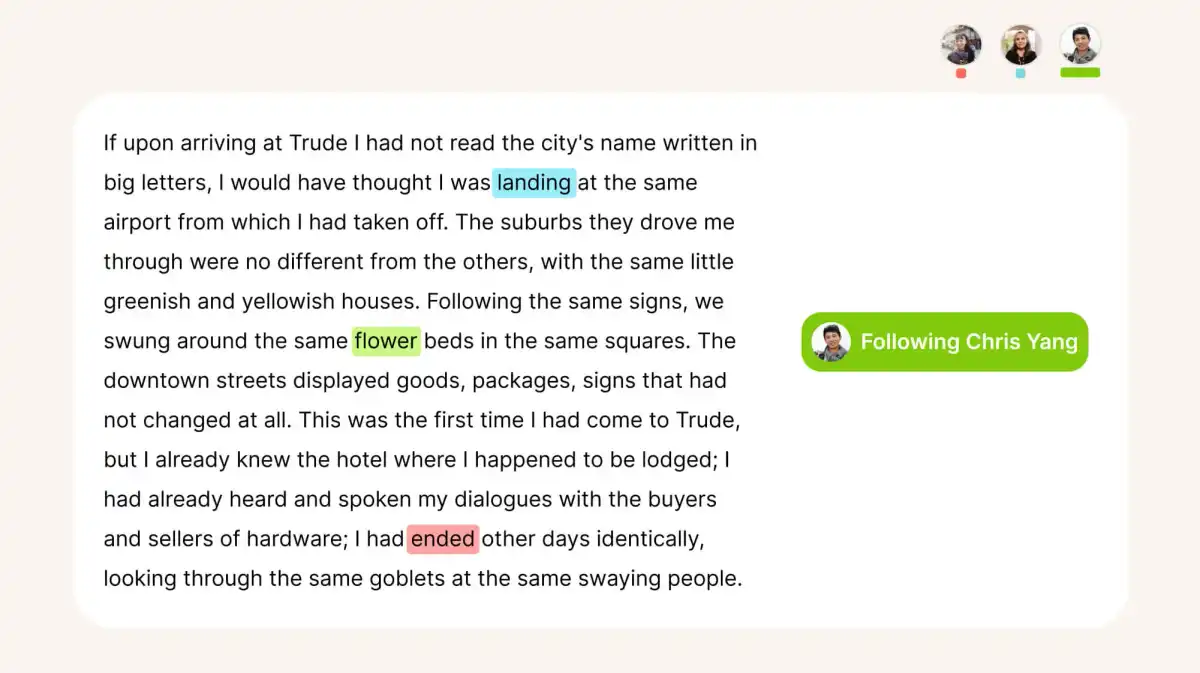 Share by URL or Download
Once you've put together your video project, you can share it with stakeholders (and other people outside of your immediate team) with a share link. Our share links work across email platforms like Gmail, workspace collaboration tools like Trello, and messengers like Slack, and they direct users to your video with an interactive transcript on Reduct's unique page.
If you want to post your video project to social media, YouTube, or elsewhere on the web, you can download the video from Reduct and upload it to your desired platform.
If you want to see how Reduct can enhance your research efforts and save you hours of tedious video editing, get started with a free trial.
Sonix.ai is another word-based video editor with tools to analyze transcripts and collaborate with other researchers. To get started, upload a video, download the transcript and add other real users to your projects. You can search and comment across transcripts to find and save key insights, or begin editing your video by highlighting segments you want.
Transcription quality is one of the most common complaints amongst customer feedback, though Sonix users do mention that the software is fairly accurate at detecting different speakers, and you can edit the final transcript for any inaccuracies. Searching through transcripts can also be tough since the search function operates on exact search terms and inaccuracies can make key moments even harder to locate.
Another common complaint seems to be the pricing model. Rather than pricing per upload or a set monthly fee, pricing is based on the number of hours you use the software. For those less skilled in editing, this is an annoyance as they will likely pay more. It also causes researchers to rush through analysis.
However, its overall reviews were quite positive, and customers seemed to particularly like how easy it is to use, even for non-tech savvy individuals.
EnjoyHQ, is an excellent tool for building a research repository and was recently purchased by UserZoom. Similar to the other tools on this list, you can upload a video, generate a transcript and edit the video from that transcript. They offer a variety of collaborative features, such as simple sharing and real-time editing, as well as unlimited storage, so that you can store all of your videos in the cloud and access them at any time.
Despite its perks, many reviewers of EnjoyHQ say the user interface is a little clunky and their transcripts are hard to read, making video editing and team collaboration difficult.
Selecting a Dovetail Alternative
Dovetail is an excellent tool for researchers who have a lot of video content to transcribe and analyze; however, its video editing features are lacking. As a result, many researchers typically use other video editing software, such as iMovie, in addition to Dovetail.
So if you're looking for an all-in-one platform that enables you to analyze your research and create a ready-to-share video 10 times faster than traditional video editing tools, consider Reduct. Reduct's analysis and video editing tools are tailored to meet the needs of fellow researchers because they're intuitive and allow for easy collaboration.
To evaluate Reduct and see if it is the best Dovetail alternative for your needs, you can get in touch with our team for a free demo.
Reduct removes the pain of working with
video.