How to Create & Share Video Highlight Reels From Your Virtual Event
Heather Lohmann
December 2020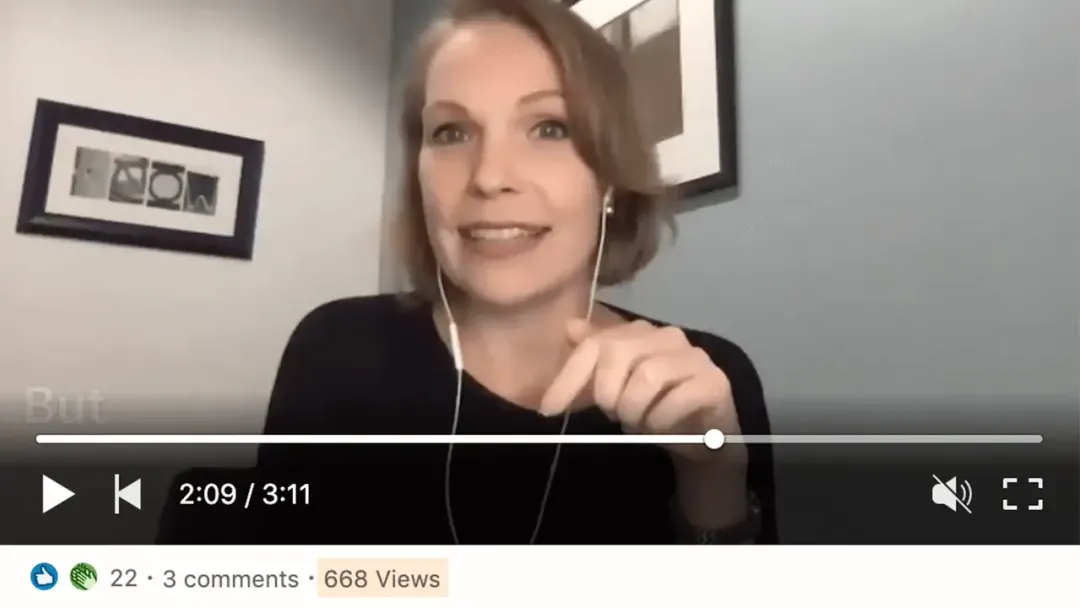 In the past year, events of all kinds have moved online, presenting a multitude of opportunities for marketers. Speakers and attendees can now join from anywhere, robust communities are built entirely online, and content can take many more innovative shapes and forms.
And on the subject of content..
Marketers spend a lot of time and effort curating great content for their virtual events, which is why it feels like such a waste to only use it once. In this blog post, we'll walk through how to leverage all of that amazing recorded session, panel, fireside chat, webinar, and other virtual event content to create video highlight reels to use across your social media, emails, blog posts sales collateral, and more.
The Beauty of Video Highlight Reels
We're all short on time, especially these days. Even with the most riveting content, your audience likely doesn't have hours to spare reviewing recordings of their favorite sessions after the fact, and if you're looking to bring in new audiences, it's difficult to grab short attention spans with hour-long recordings alone. Essentially, relying solely on full recordings of your events likely won't cut through the noise echoing throughout our digital-first world.
By editing those longer videos into more snackable snippets and weaving together topical narratives, however, you can distribute your event content through a wider variety of channels, and share more concise, compelling videos that meet your audiences — old and new — wherever they are, no matter how much time they have.
Explore the power of text-based video editing.
Try Reduct for Free →
Read the full story of how Modern Sales Pros uses video highlight reels to breathe new life into virtual event content here.
If you turn a single session or even your entire virtual event recording into several shorter highlight reels, you can dramatically increase the exposure to your content and leverage a wider variety of marketing and sales channels. Video is extremely effective on social media, for example, where it typically gets 12X more views than other types of posts. But for videos to be effective on social, in an email, or embedded within a blog post, they need to be short — it's recommended that digital video content is kept under three minutes for peak engagement.
By creating shorter highlight reels that feature key moments from your virtual event, you can more effectively tap into the power of video across all your digital channels.
A Look at How Video Highlight Reels Impact Engagement
For example, YCombinator has taken a single 19:33 minute Elon Musk interview, which gained 1.4M views on their Youtube channel, and created multiple short highlight reels (1-3min long) out of it. Taken together, just 4 of these highlight reels have gotten 12.7M views, or 9X the exposure of the original video.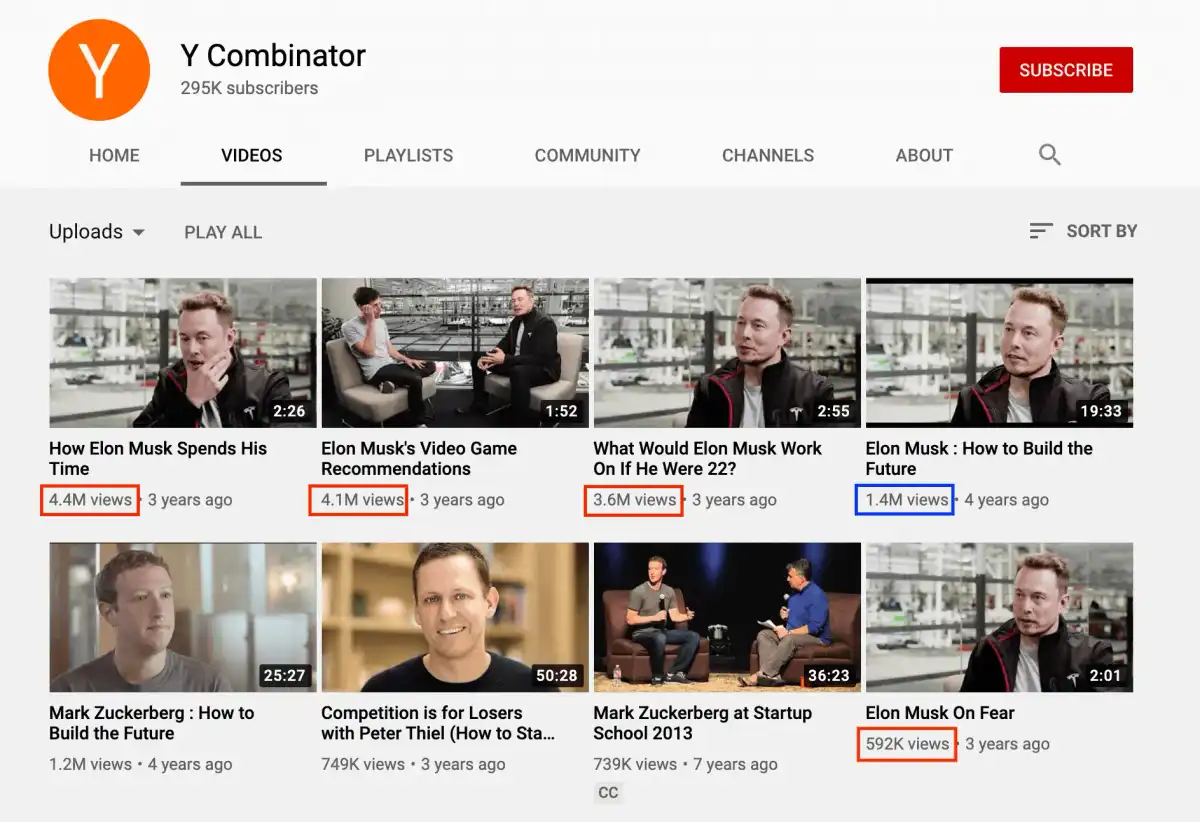 Top viewed videos on YCombinator's Youtube. Original 19:33 Elon video is #4 (view count in blue). Highlights from this interview (in red) not only extended the life of YCombinator's video content, but also generated 9X the views.
While not everyone can lock Elon Musk in as an interview subject, we've also found this general trend to be true even in much lower volume scenarios. In fact, by repurposing one of our own high-performing webinars into multiple highlight reels, we received 50X more views than on the full recording alone, via highlights shared out through marketing emails, LinkedIn, Reduct's website, a blog post, and more.

Upload short highlight reels on LinkedIn to ramp up your social media presence, connect and engage with your audience in the comments, and of course get more eyeballs on your virtual event content!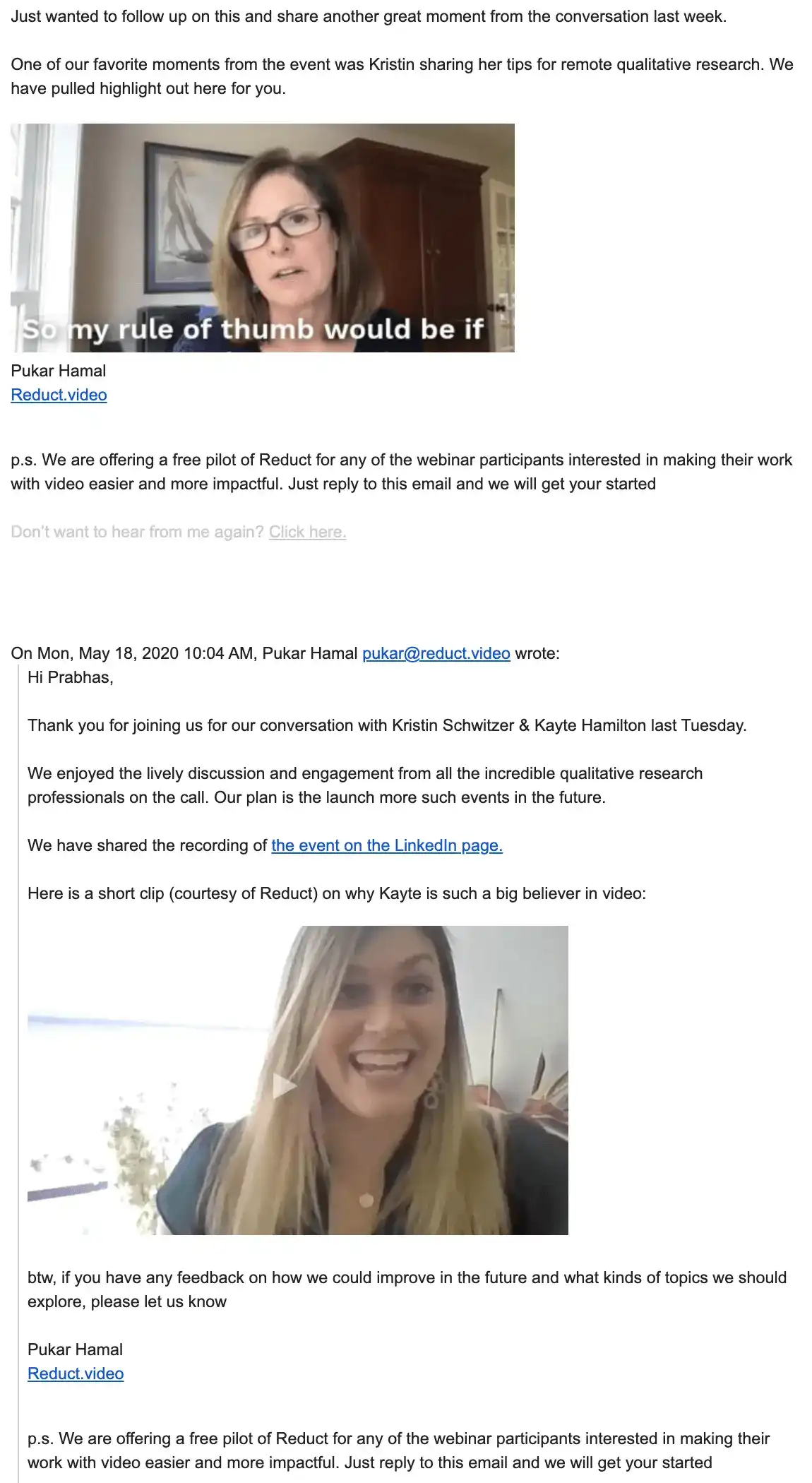 Include short video highlight reels in your virtual event marketing follow-ups, post-event sales outreach, and other prospect or customer-facing emails to add a more engaging, interactive element.
What Should Go Into a Virtual Event Highlight Reel?
When creating highlight reels from your virtual events, you should focus on the most impactful, surprising, and insightful moments. While it sounds simple, it's easier said than done.
Here are a few tips to help you stay on top of those key moments so you're not scrambling for them after the event has wrapped:
Reference the outlines or key bulleted takeaways that your speakers and team used to advertise your event. These topics are what your audience came to hear about, so it makes sense to highlight the high-level talking points.

Take notes! Speakers will often call out the takeaways they want for the audience by saying something along the lines of, "If you take one thing away from this talk, it should be …" Jot down a few words so you can search through the transcript later and identify the exact right moment.

Pay special attention to the moments that generate a lot of excitement from the audience. During an in-person event, you can watch for audience nods and smiles. During virtual events, look out for those moments that fire up the activity in chat or inspire a lot of emojis.

Keep tabs on your Q&As. The most impactful highlights can often be pulled from the unprepared answers to impromptu questions asked by your curious audience members.
How to Create an Engaging Highlight Reel
Simply cobbling together a short highlight reel isn't enough — you need to make your content engaging and hook your audience in the first few seconds of the video. We've seen successful storytellers keep the following principles in mind:
Master storytellers are great at creating suspense. If you can create suspense, you'll keep your audience watching because they'll want to find out what happens next. Some moments that can create suspense, and where you'll want to focus the opening of your virtual event highlight reel, can be:

Your speaker made a surprising or provocative claim that they later justified,
Your speaker spoke about a problem they faced, or
A particular question was asked that noticeably piqued your live audience's interest.

Focus on action. Take this lesson from one of the master storytellers of our generation, NPR's "This American Life" host Ira Glass. He says that a key storytelling technique is just to show a sequence of actions, where "one thing leads to the next, leads to the next."
"The thing in writing that I had to learn on my own that I'm surprised isn't taught… people don't teach story structure properly in school."
Pull from the real-life stories your speakers tell (and do what you can to encourage them to tell stories during their sessions). For example, a group at Stanford University that has been creating event highlights for years asks its speakers to think about a few things they want their audience to take away as they prepare their talks. They then ask the speaker to illustrate each takeaway with a story from their own lives, something they've experienced personally. The story paired with the takeaway makes for a more impactful highlight video, rather than just focusing on a takeaway on its own.
One is Fun, But More Is Better: Extend the Reach of Your Virtual Event With Video Highlight Reels
In an offline world, event hosts often created a single highlight reel from an event. Because video recording and editing likely had to be done professionally — and was therefore very expensive — teams had to conserve resources and think small.
The rise of virtual and hybrid events, however, has changed the game when it comes to content curation. With innovative tools removing the traditional barriers of video editing, marketers can now create more concise and compelling video content quickly, and all on their own. Reduct , for instance, helps you leverage the amazing content you curate for any event, turning the most impactful moments into bite-size takeaways so you can share them with an even wider audience, through even more channels.
Creating multiple highlight reels — each focusing on a key takeaway — has several advantages for both your team and your audience:
One highlight reel featuring all of the takeaways from an event just becomes too much. Each concept gets so little time, it's hard to give more than a fleeting flavor of each idea. If you're able to create multiple highlight reels per idea, however, you can not only give all of the ideas more breathing room, you can also focus on the right narrative arc to make each and every idea even more compelling.

Is there a story that brings the takeaway to life? Did the speaker face a problem the audience will get invested in? Create multiple videos to share via social media, in an email campaign, or on your blog, posting video highlight reels that each feature a key idea, lesson, or takeaway, and you'll provide more value to your target audience across channels, which will inspire more engagement.

By creating a variety of highlight reels from your event recordings, you can add more layers to your longer-form content. Simply weave in video with text and graphics to build a multimedia story centered around similar themes and takeaways from multiple event recordings.
However you choose to slice them, video highlight reels allow you to extend the life of your virtual event content, sharing valuable insights, inspiring narratives, and key moments more widely to reach and engage your audiences wherever they are.
If you're interested in learning more about how to create video highlight reels from your virtual event content, check out this example straight from the Reduct blog . If you're ready to start making highlight reels yourself, get in touch with our team or try Reduct out for yourself with our free trial!
Reduct removes the pain of working with
video.