Get the most accurate transcription, instantly
Powered by next-generation AI technology and experienced human transcribers.
* No credit card required to start.
* 2 hours of free AI transcription included.
* Access to interactive transcript expires 2 days after upload.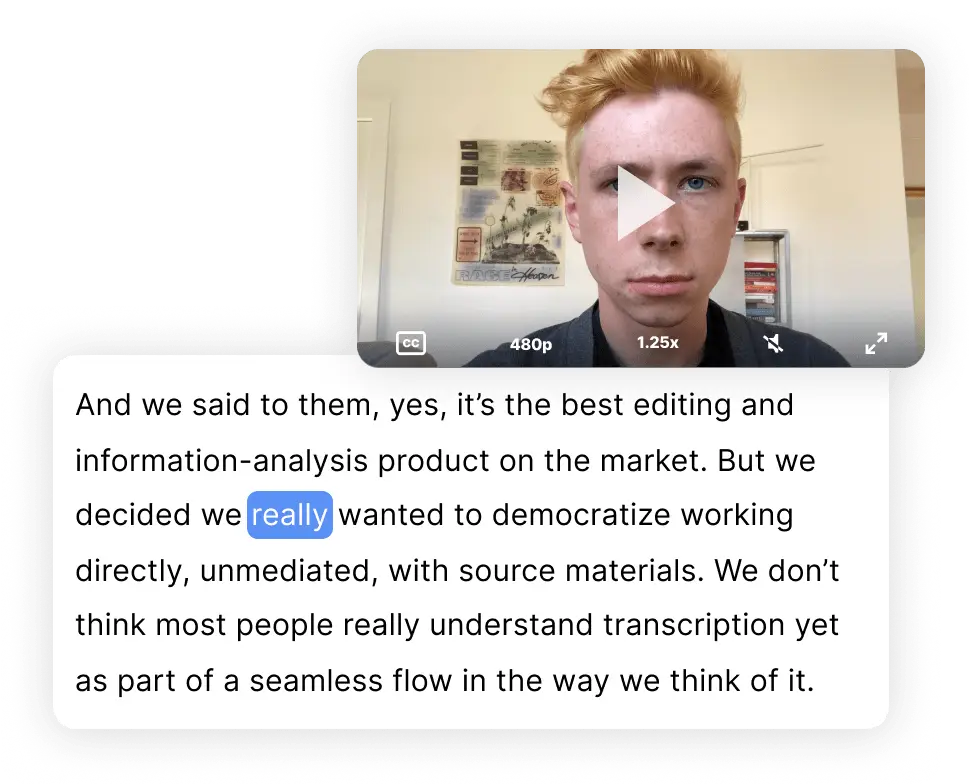 AI transcription @ $0.10/min
Our transcription, based on OpenAI's next-generation Whisper model, has the highest accuracy in the industry.
Upload or import media and get transcripts in any format within seconds.
Search through all your videos using text, highlight interesting sections and download clips.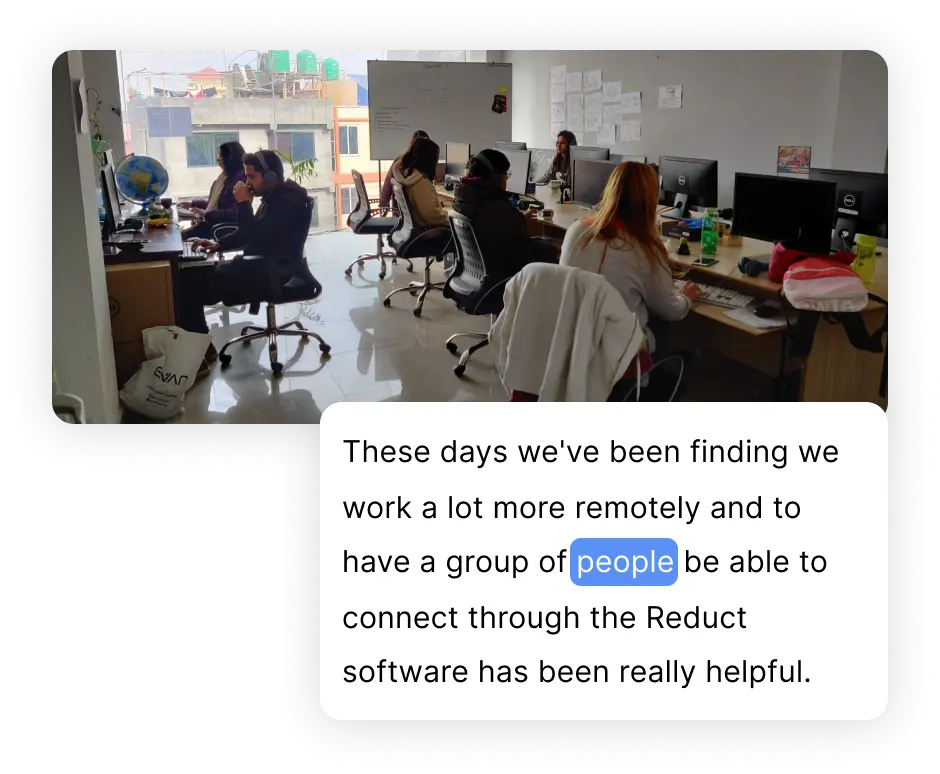 Human transcription @ $1/min
Humans can use context and manual research to improve the readability of transcripts.
3 hours average / 24 hour maximum turnaround time, 99% accuracy.
You get AI transcripts for FREE immediately, which are overlapped with the human-corrected version when it arrives.
Learn more on how we ensure 99% accuracy →
| | | |
| --- | --- | --- |
| | Transcribe by Reduct | Rev.com |
| Computer transcription | $0.10/min | $0.25/min |
| Computer accuracy* | 96%+ | 90%+ |
| Human transcription | $1.00/min | $1.50/min |
| Instant first draft | Included | +0.10/min |
| Per-word timestamping | Included | +0.30/min |
* Model has achieved 96% accuracy on LibriSpeech benchmark. Other numbers are as claimed on provider website. Results may vary.
** Quoted price is for one-day turnaround. Prices vary from $0.90 for five-day to $2.50 for 12-hour turnaround.
Customer Success Story
When you've got a video of somebody talking or sharing a story, that's incredibly compelling. Reduct helps us leverage and utilize all the footage that we've got. We use Reduct to quicky put together different little reels and share compelling stories.
Rob Volpe , CEO at Ignite 360
A powerful editor built for collaboration
Search, highlight and edit transcripts within Reduct. Create clips just by highlighting text. Collaborate easily with your team.