What's the easiest and most efficient way to take meeting notes of your Zoom meeting?
Not having to take notes at all.
You heard it right! With the Live Capture by Reduct you don't have to worry about typing fast enough to note down every important detail.
All you need to do is copy the meeting URL and paste it on Reduct. Our Reduct transcriber bot can be your designated Zoom notetaker. Reduct bot can help you get a live transcription of your Zoom meetings, word for word, as it happens.
Say goodbye to manual note-taking with Reduct's Live Capture!
Try Live Capture →
Capture live meeting notes automatically, highlight key moments, and share meeting notes with Reduct.
Benefits:
⭐ Save time & effort
⭐ Get rid of the manual meeting note-taking process with a designated note taker.
⭐ Invite your team & highlight interesting pieces in tandem
⭐ Share your meeting notes as a transcript and video snippets
Five quick steps to get live Zoom transcription
1. Paste your Zoom Meeting URL: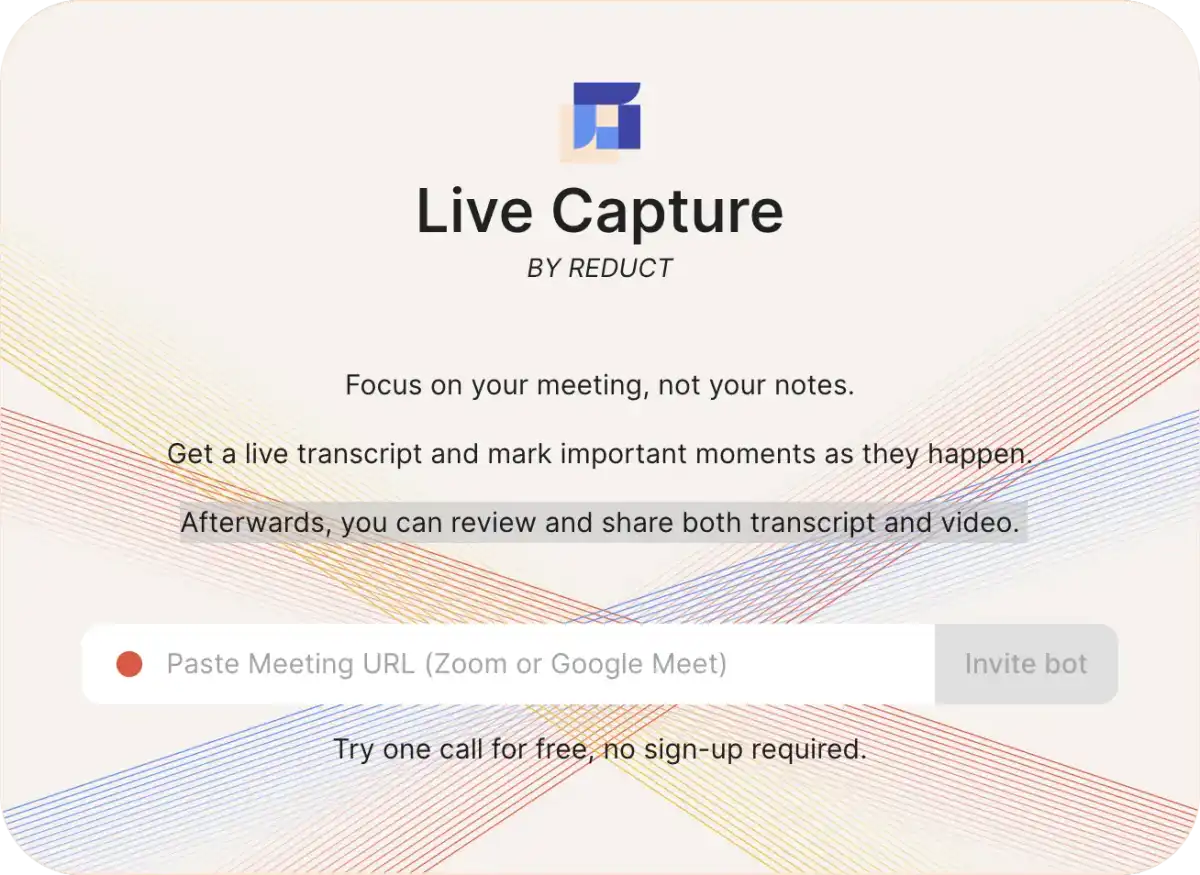 Go to Live Capture by Reduct and paste your shared zoom meeting URL.
No sign-up required.
2. Admit the Reduct note taker bot to your Zoom meeting.
You will receive a join request from Reduct Transcriber in your Zoom meeting. Admit the Zoom notetaker bot to get the live Zoom transcription started.
3. Get live Zoom transcription: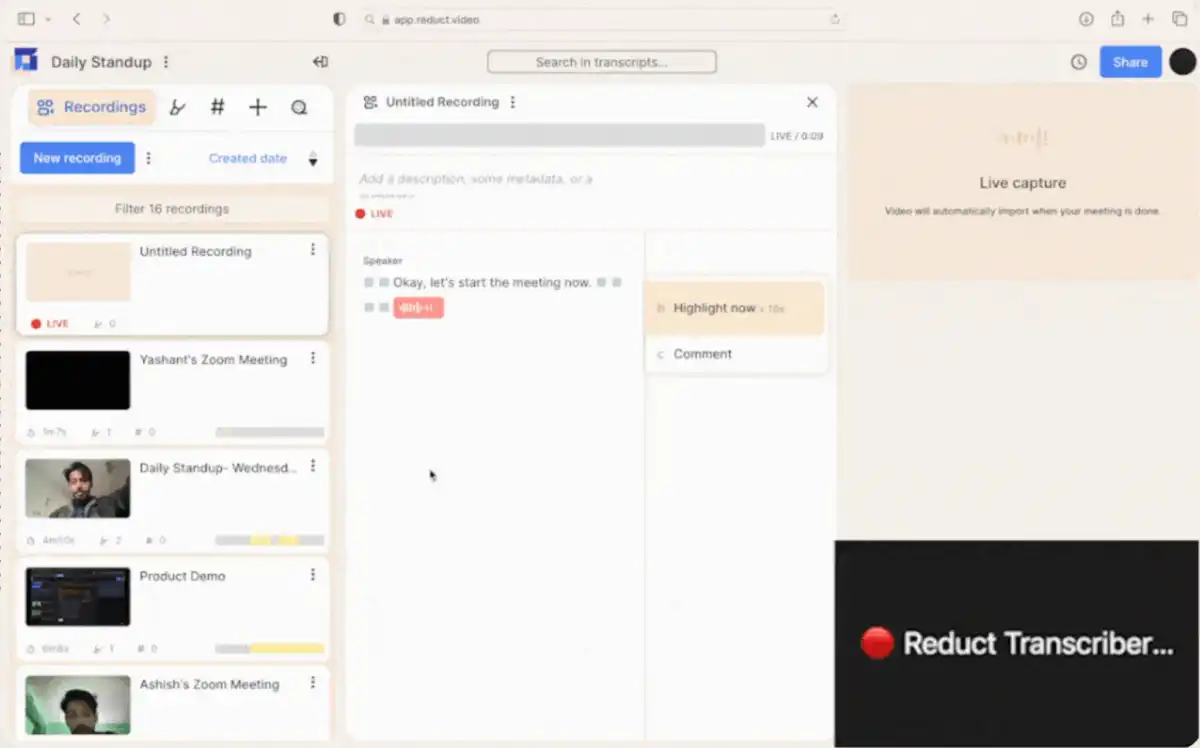 Once you start speaking, Reduct Bot will automatically transcribe your live meeting and store it in our web-based platform.
4. Highlight, comment, and tag key moments of the meeting, as they happen.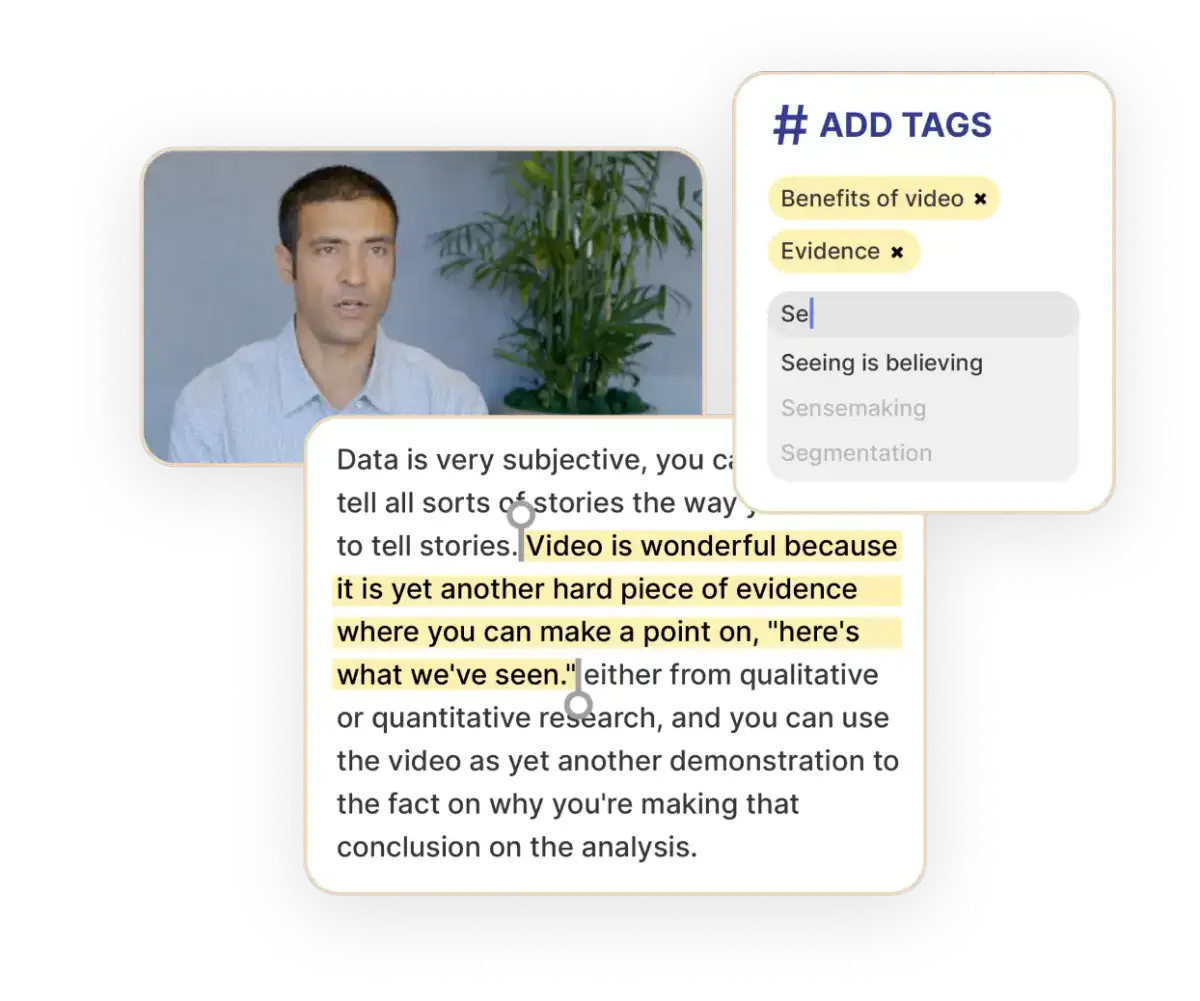 Invite your team to the transcription page and highlight meaningful meeting notes together. The comment feature allows you to tag your team members and assign specific tasks to them.
Reduct can be your central repository for all your Zoom meetings, with the transcription, highlights, and comments intact.
5. Share the notes with the relevant stakeholders.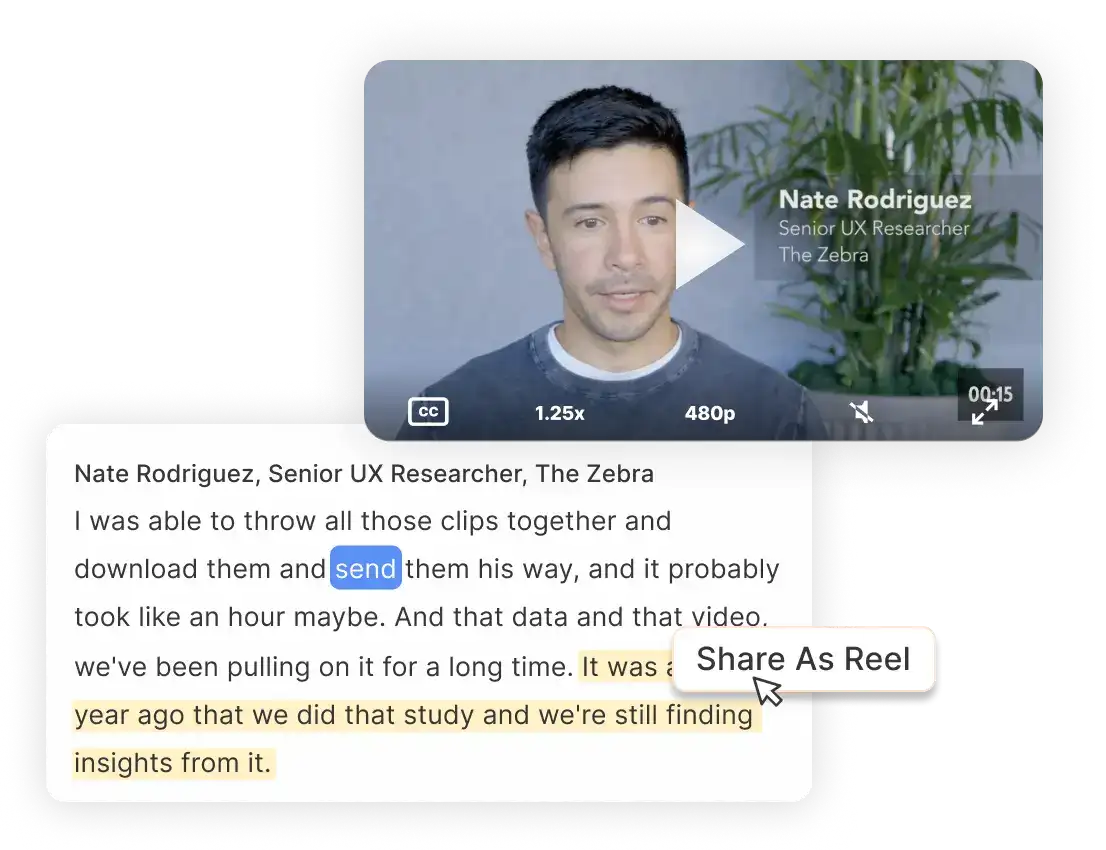 Once your meeting ends, share insights and noteworthy moments by sharing the transcripts or creating short video reels, all with Reduct.
Reinvent your online note-taking process.
Let's face it, creating the Zoom meeting notes is the most tiresome part of a remote meeting. On top of that, the need to break down action points, assign tasks, and share Zoom meeting notes with the relevant stakeholders is demanding.
Try 'Live Capture by Reduct' today and reinvent your online note-taking process.
Focus on your meetings,
not your notes.