Reduct is a fully online collaborative
video editor

,
a stunningly accurate

transcription

service,
with

powerful tools

for synthesizing meaning,
wrapped in a sharable, searchable video archive,
all in a single easy-to-use platform.
Find ideas faster
Fast, accurate transcripts
Get accurate transcripts right away, and, when perfection matters, human transcripts overnight.
Ctrl + F for video
Locate moments within one recording, or across thousands of hours of content. Reduct's powerful fuzzy search algorithm finds relevant phrases even when the words don't match exactly.
Bring structure to your chaos
Highlight key moments, and tag to categorize them. Use tag groups when you need hierarchy, and powerful filters to reveal patterns.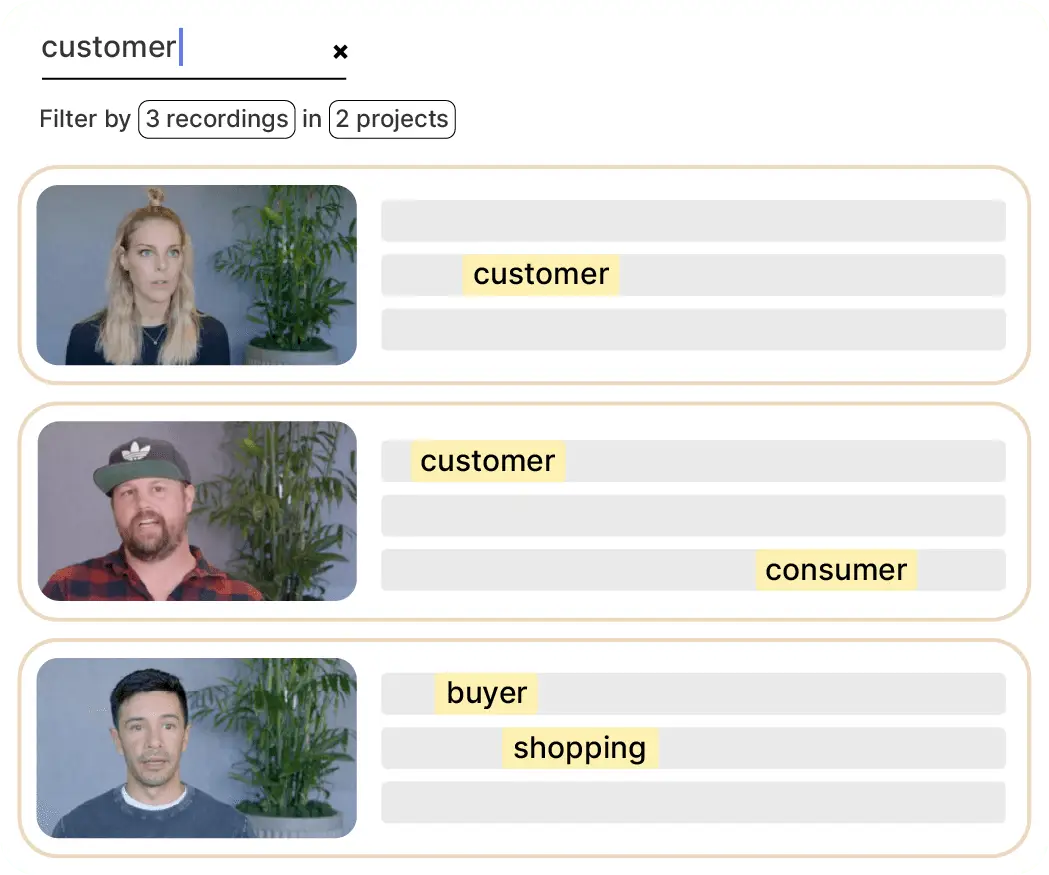 Everything you need
Edit fast, edit furious
Drag-and-drop text into a reel to assemble a rough cut in minutes. Assembling clips from multiple recordings and projects lets you tell a stronger story.
Cut to the chase
Select and strikethrough text to skip tangents, hesitation, or filler. It's as simple as editing a document.
Your library of babble
Reduct is a central store for all your recordings. It's accessible, searchable, and secure.
Go further, together
Figure it out as a team
Highlight and tag recordings as a team, in real-time. Comment, mention teammates, and invite guests and commenters to keep everyone in sync.
Dimensionally flexible
Videoboard lets you spatially arrange clips on a two dimensional canvas — and hit play at any time. You can use it to storyboard, cluster similar moments, and make sense of hundreds of clips.
Reel in your audience
Share a clip with just a keypress—then paste into Slack, Teams, or anywhere else your audience spends time, in order to make an instant impact.
It works with how you work
Capture live Zoom, Meet, and Teams meetings, or import recordings from your favorite services.
Download or export in a snap. Want to include captions? It's automatic, in several styles.
Need extra polish? We have a great Premiere extension, and powerful Final Cut export.
Just need transcription?
Try our best-in-class AI and human transcription services, also available in a pay-as-you-go model.