There are plenty of timeline-based online video editors that bring an iMovie-like video editing experience to the web. These editors are great for editing vacation videos, or videos that are heavy on graphics, overlays, filters, and transitions.
However, most online video editors aren't effective solutions for editing videos of people talking (interviews, meetings, presentations) that require extracting key segments from hours of recordings.
This is because editing long talk-based content like interviews or presentations with a timeline editor means you have to find the exact timestamp of the phrase and cut it at the precise moment where the speaker begins and ends the phrase. This can get extremely tedious.
To solve this problem, we built Reduct, a word-based video editing software solution that allows you to edit the video just by editing the text of an (extremely accurate) transcript.
Explore the power of text-based video editing.
Try Reduct for Free →
In this post, we'll describe what Reduct is, how it enables you to edit a video just by editing text, and how that can save you hours of time. Or, you can see for yourself by starting a free trial of Reduct today.
Reduct.Video: A Word-Based, Online Video Editor (Edit Video Just By Editing Text)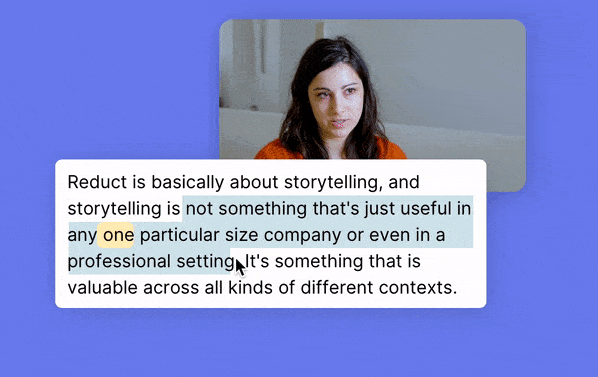 Reduct transcribes your video files so that you can use the transcript to both 1) analyze your footage and 2) edit your videos. Our tool lets you search and compile video clips across multiple different recordings, or polish up videos by editing out the sections you don't need. Since our platform is entirely online, users are able to share video files with other team members so they can work on video projects together and collaborate on edits in real-time.
Below, we'll discuss the steps to edit a video online with Reduct and some of our platform's features that make analyzing, editing, and collaborating on long video projects easy, including:
Accurate Transcripts : Choose between a human or computer-generated transcript
Highlights : Highlight words, phrases, and paragraphs in the transcript to automatically extract clips from your video
Highlight Reels : Arrange your video clips into a meaningful narrative with simple drag and drop editing
Strikethrough Editing : Edit out unwanted sections of video or filler words like "um" by deleting text
Insert Title Slides and Captions: Add text/image slides and automatic captions to your final video
Fuzzy Search : Always find the video clip you need, even if you can't remember the exact word, as Fuzzy Search analyzes your transcripts for concepts and themes
Collaboration : Allow other team members to comment on and edit your video projects
Sharing : Share your polished videos with anybody you need using a simple share link. Our share links work in messaging apps, email platforms, and other workplace collaboration tools. When you share your videos, end-users also receive an interactive transcript to review.
Note: Reduct also integrates with Adobe Premiere Pro and Apple's Final Cut Pro X, so you can easily export to one of those tools if you want to do any advanced edits to your video projects.
Upload Your Video and Access The Transcript
Once your video is uploaded, you'll have access to a computer transcript to review and start your editing. Typically, computer transcripts are about 85% accurate. They're more accurate if you're working with really clear audio, but we also let you edit transcripts if you spot any inaccuracies.
However, you can also request human transcription if you're working with poor quality audio, such as:
Background noise
Speakers with unclear accents
Speakers who use a lot of jargon
Speakers who are hard to hear
Multiple speakers talking at the same time
Human transcription is about 99% accurate, so it's recommended if you need a polished transcript to share with others or use for captioning (and don't want to spend time manually editing the computer transcript).
Reduct also offers the industry's cheapest overnight human transcription at $1 per minute; regardless of video length, you'll receive your transcript back within a day.
You can read more about our video to text transcription services here.
Pull Clips by Highlighting The Text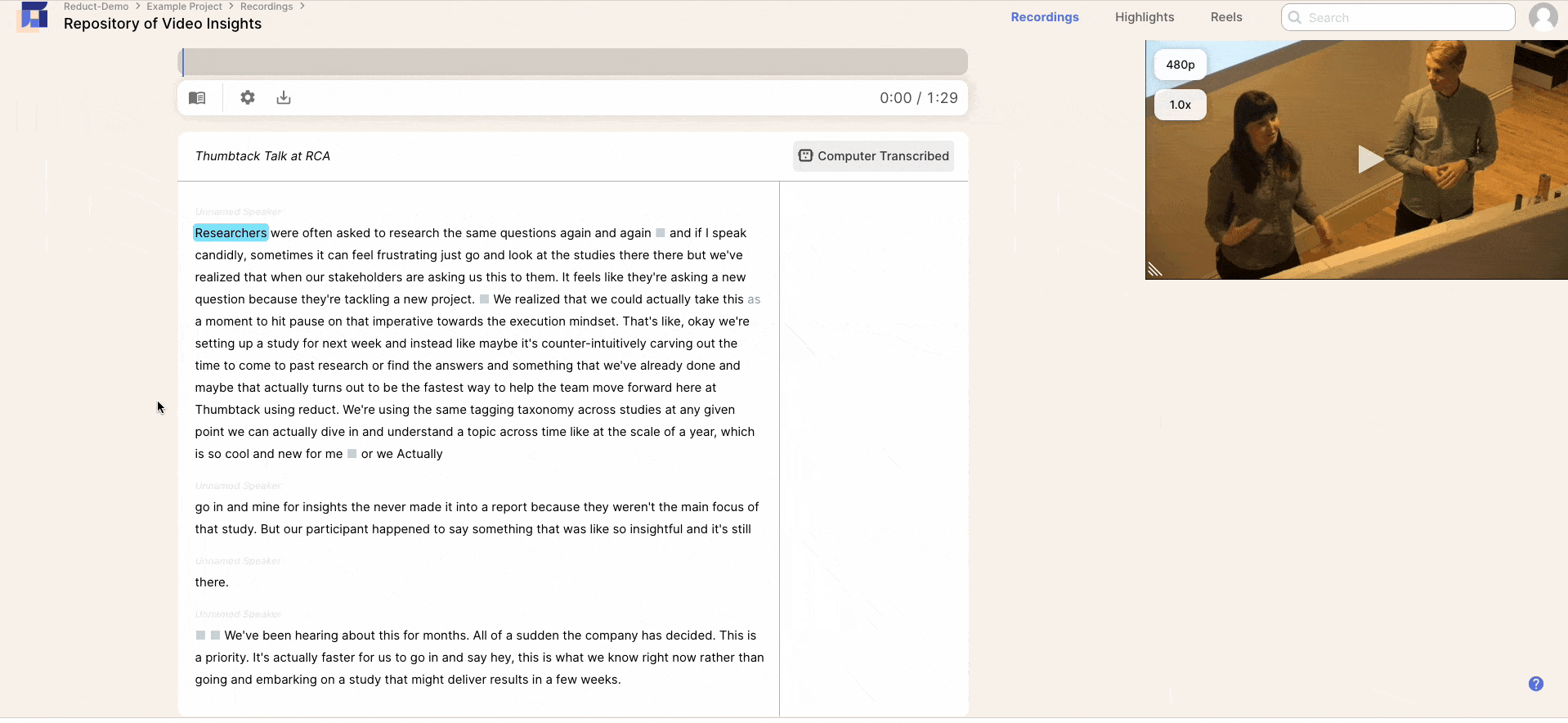 As you read down through your transcript, you can highlight key moments or important sections of video and Reduct will pull and save the highlights as video clips (called "Highlights"). Our software is incredibly accurate at matching where the phrase was said in the video clip, so you don't have to worry about the clip starting an instant too late or too soon.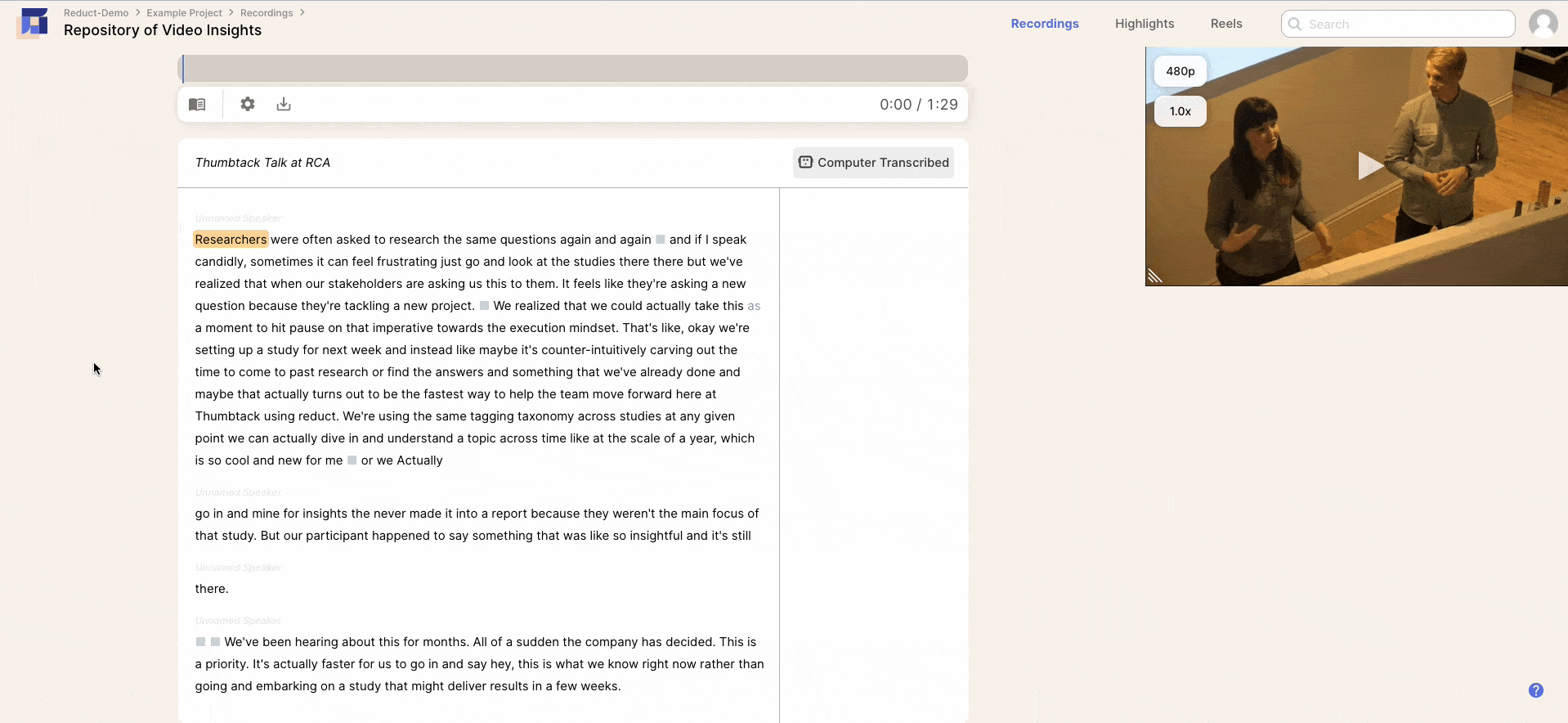 Then, our tagging functionality lets you tag your Highlights to categorize clips, organize your material, or improve the searchability of your video clips.
You can download individual video clips from Reduct, or you can use your video clips to make Highlight Reels.
Create Video from Your Highlights
Putting together Highlight Reels is as easy as dragging and dropping video clips into sequence. You can make Highlight Reels using Highlights from one video source, or you can compile video clips from multiple video files.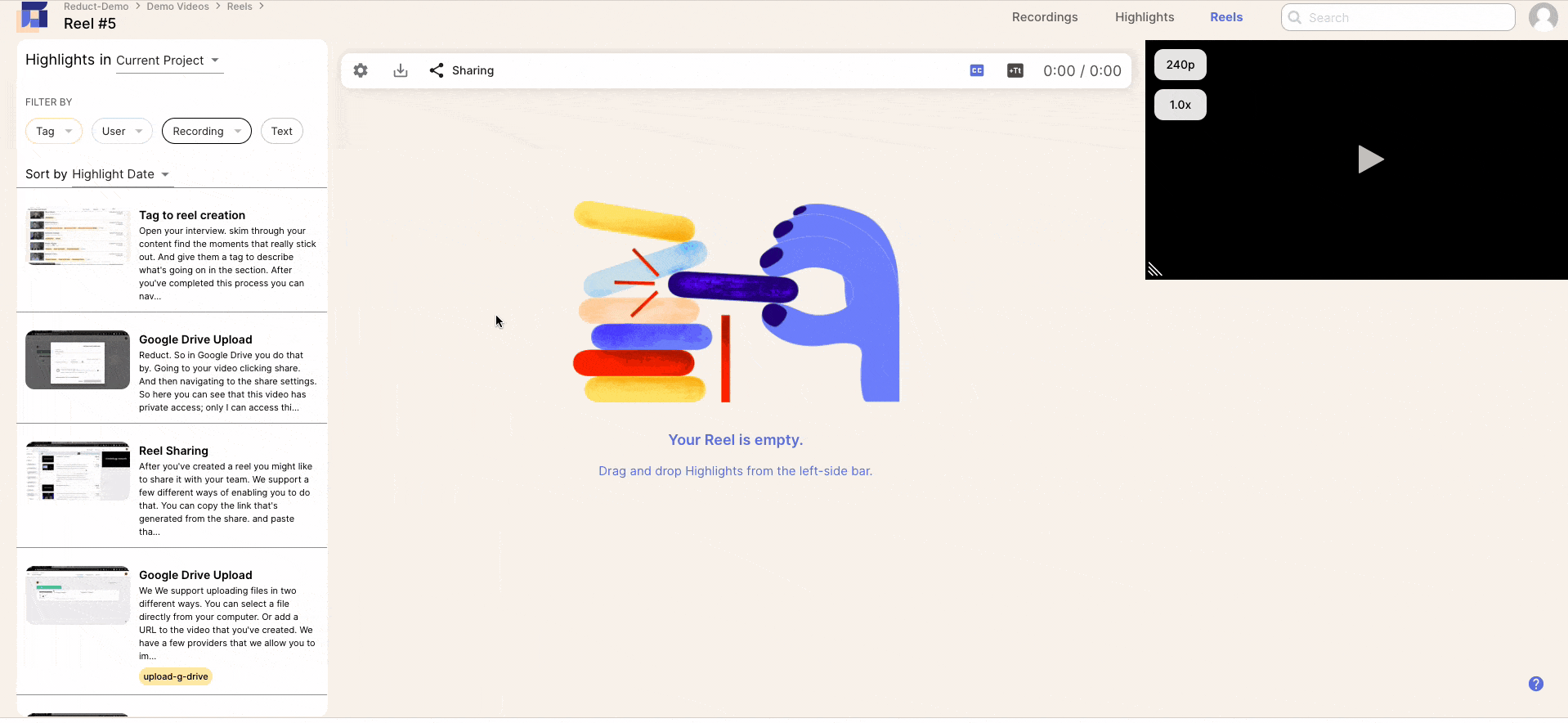 You can also arrange Highlights in whatever order you prefer (and rearrange them as you go).
Reduct's search feature makes it easy to find the video clips you want to use in your projects: Fuzzy Search processes your search term and analyzes your video files by concept/theme so it pulls everything related to your search. (That way, you don't have to remember exact quotes, video file names, etc.) Then, you can use filters to narrow down search results and locate the exact video clips you need.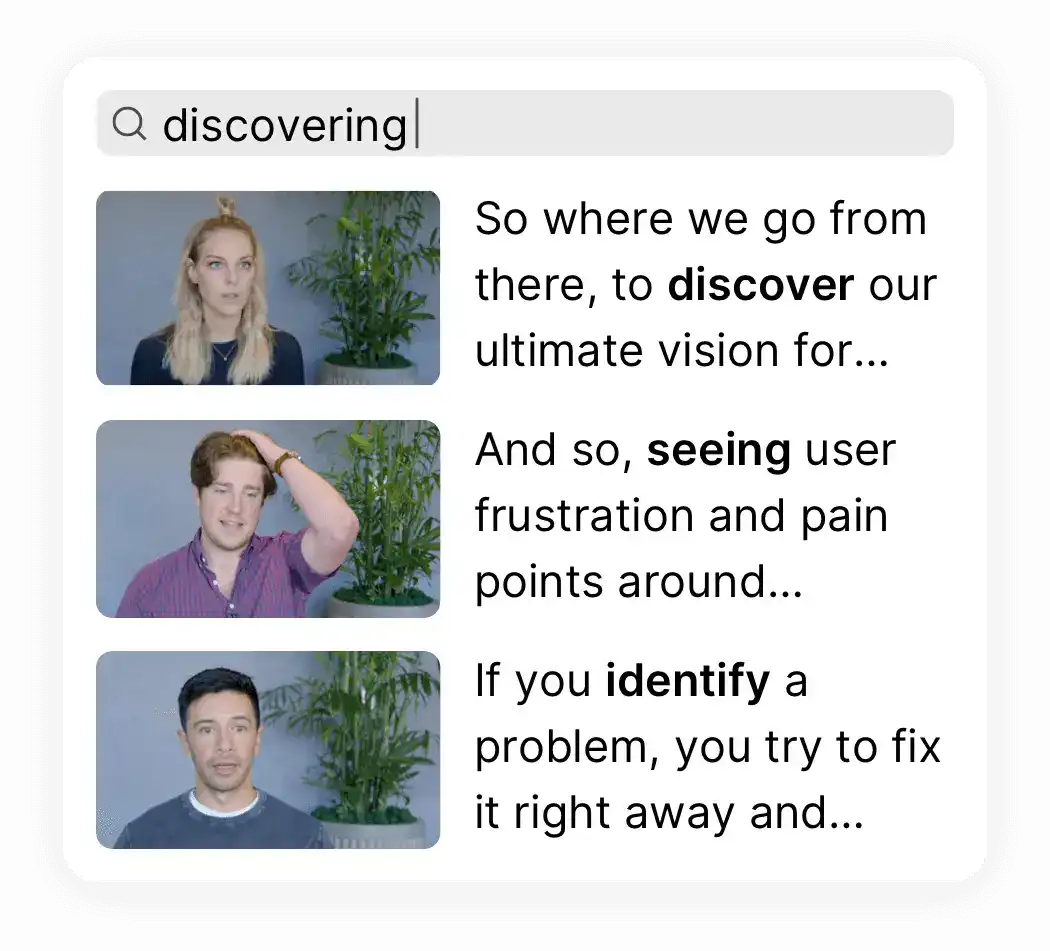 Edit Highlights by Adding Title Slides, Captions, and Editing Out Unnecessary Words
Once you begin working on your Highlight Reel, you may want to edit out certain sections of your video clips, add in text or image slides to emphasize a certain point, or customize your video in other ways.
Edit Out Unwanted Words or Phrases
With the Strikethrough feature, you can delete unwanted words or phrases by simply striking through them. For example, if the interviewer has a great point at the beginning and end of the clip, but has a tangent in between, you can just strike through the tangent.
Another great use case for the Strikethrough feature is eliminating filler words like "um" and "you know." In fact, you can just search the entire transcript for "umms" and delete them all in just a few clicks.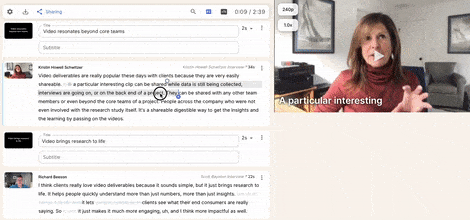 Add Title Slides
To emphasize a certain point, build context between clips, or otherwise improve the flow of your video, you can add text slides to your Highlight Reels. You can also use these slides to add images to your video project.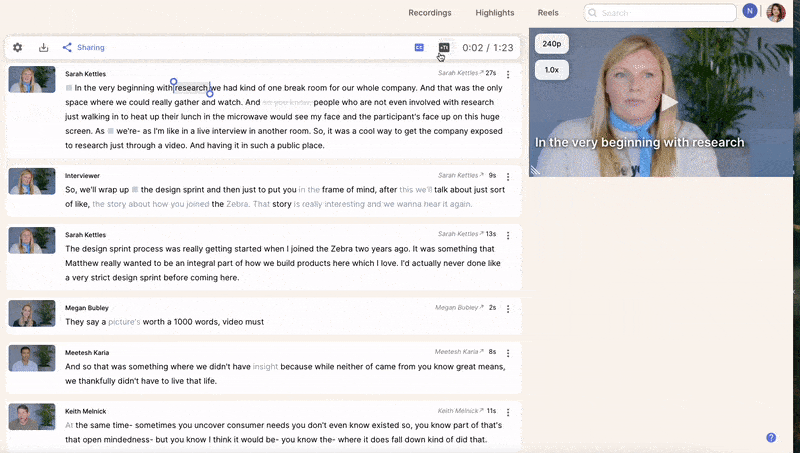 Add Captions
Typically, transcribing videos and adding captions takes four to five hours for every one hour of video. Talk about a major time suck. But all of our videos include captioning (from the transcript) by default. Captions make your videos more accessible and are great when creating videos for social media where viewers may be scrolling without sound.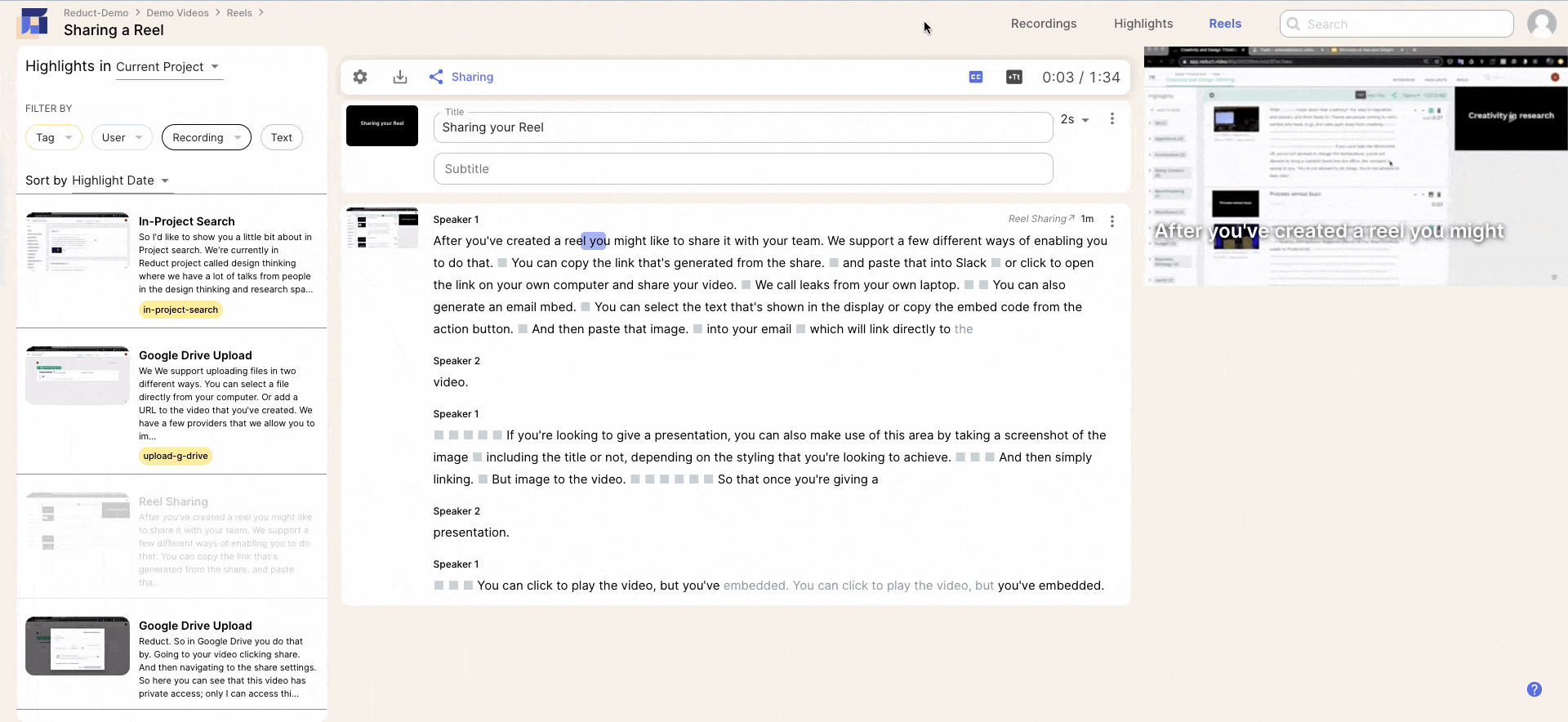 Share Videos with Other Team Members & Collaborate With Your Team in Real-Time
If you're working with a team or even just submitting your video project to your boss, Reduct makes it very easy to collaborate on editing.
First, you don't have to ship a hard drive or worry about physically sending a massive video file to anyone. Because Reduct is a 100% online video editor, you can simply share the video with teammates by adding them to your video project or sending a link.
Once added to a project, you can give team members permission to comment on your video or edit it directly. With our Presence feature, you can even collaborate on reviewing and editing video, in real-time.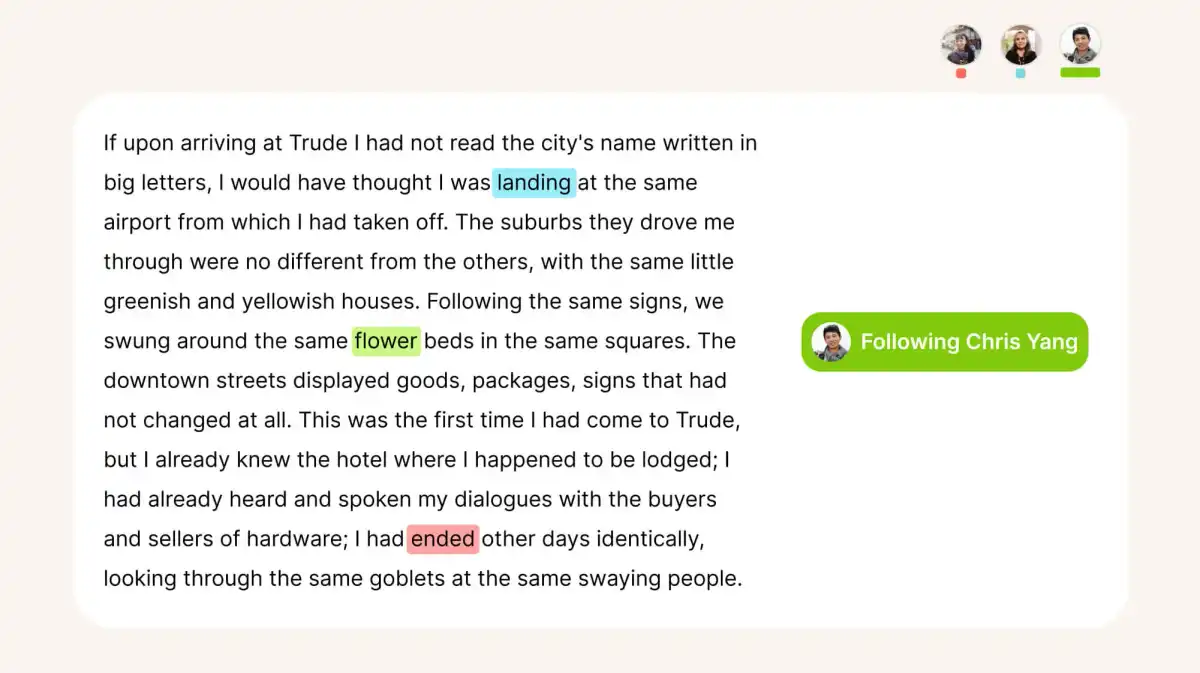 Share Your Final Video With Stakeholders & Other Non-Reduct Users
Sharing videos is also as easy as clicking the share button, and copying and pasting the shareable URL. The URL unfurls nicely in messaging apps, emails, and workplace collaboration tools. When the recipient clicks on the link, the video will open on a webpage hosted by Reduct.
Our share page includes an interactive transcript. Viewers can read along as the video plays, skip ahead by clicking on a word, or save time by using Ctrl+F to find just the content they are interested in. Title slides turn into chapter markers that provide a table of contents. And viewers can adjust the speed and resolution of playback, to consume the video on their own terms.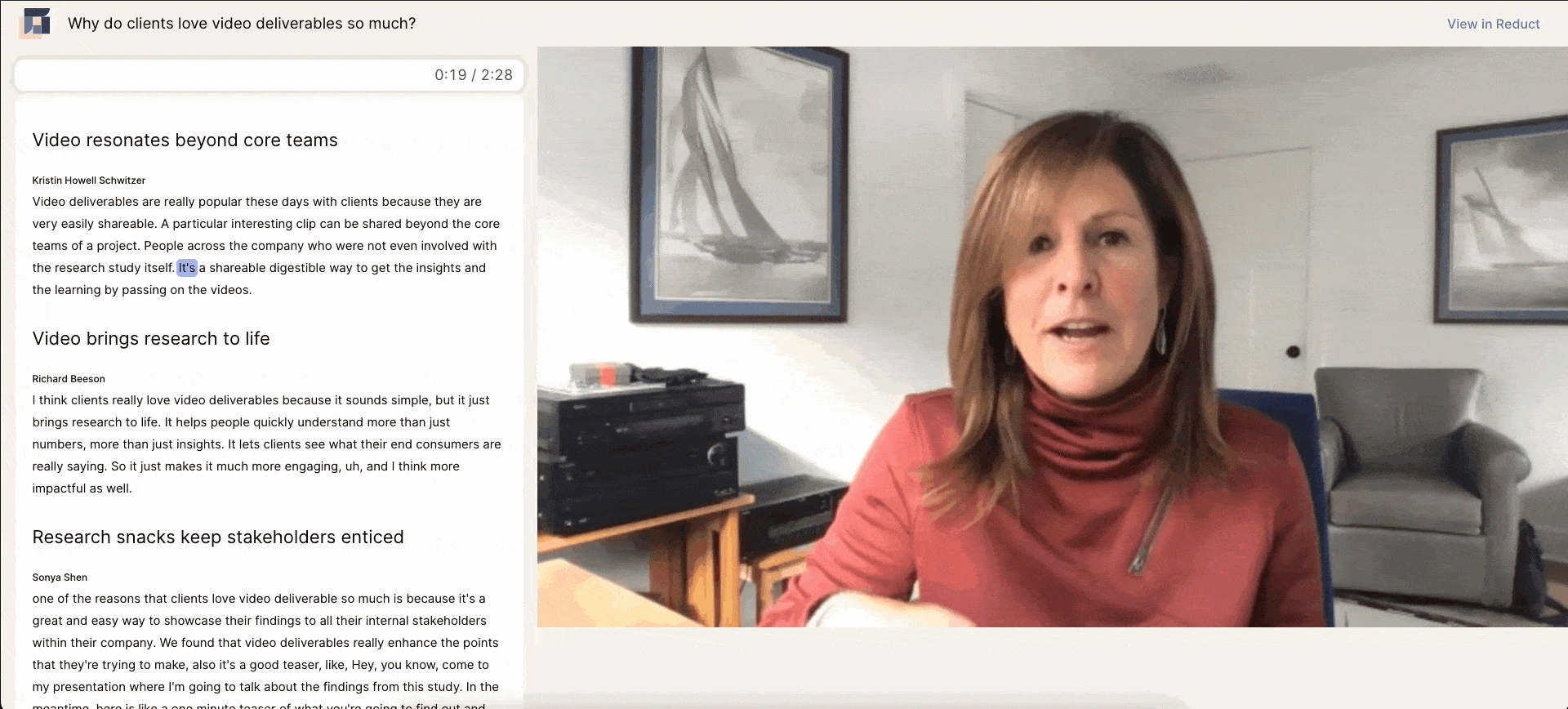 However, if you'd rather post the video natively to a platform (for example, posting it natively to Linkedin or adding it to your YouTube channel), you can just download it and then upload it to the desired platform.
To see for yourself how Reduct works or learn more about pricing, get in touch with our team and start a free trial.
Other Online Video Editors to Consider
If you're looking for a video editor that allows you to upload clips and polish your final product, here are a few other choices to consider.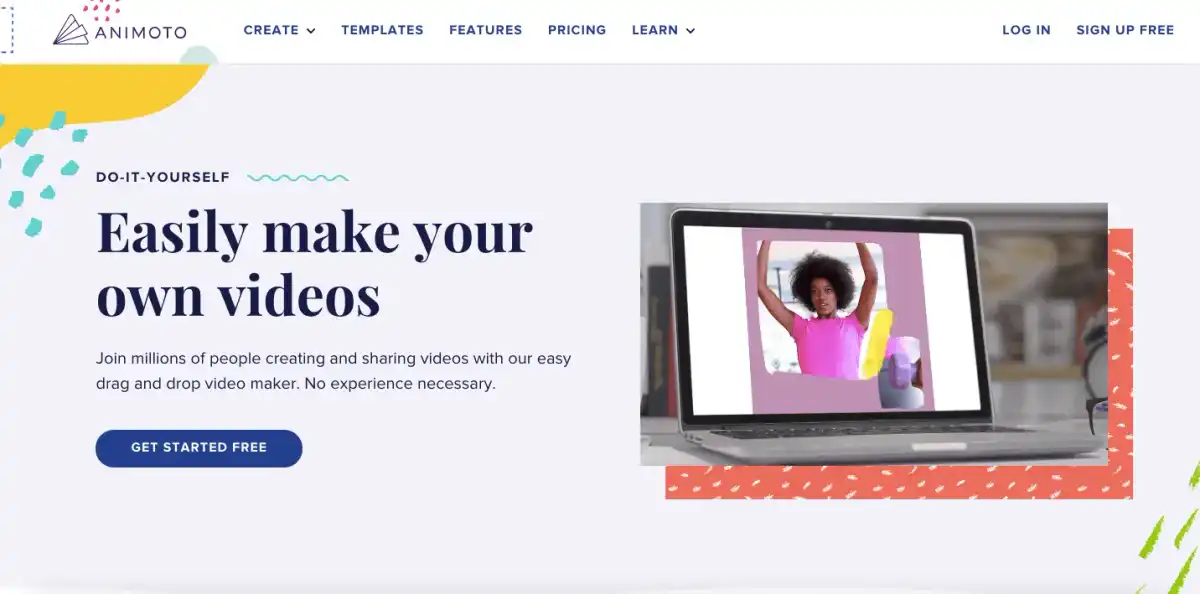 Animoto is an online video editor geared towards social mediavideo creation for marketers. To get started, choose a pre-made template, upload your video/audio file, and then use their features to crop and trim your footage, add text to your video projects, and resize your video for different social media platforms.
Some users complained that Animoto offers a very limited range of music selections and you can't upload your own audio. In addition, users complained that some basic editing features are locked behind paid plans.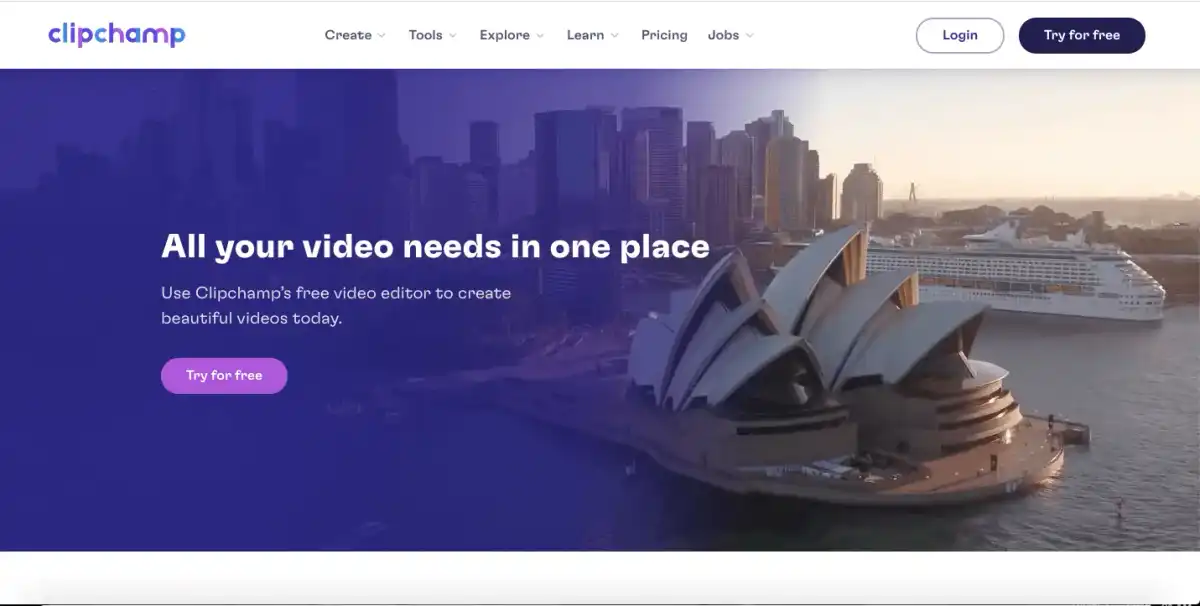 Clip Champ is a user-friendly video creator that allows even those with no video editing experience to create professional video content. To create your first video, you can sign up for a free or paid account, select a pre-made template, upload the video or audio file, and start editing.
In addition to standard editing features such as adding text, cropping, and trimming, you can also import custom fonts to use in your video presentations, record your own screen, or create voiceovers for your videos.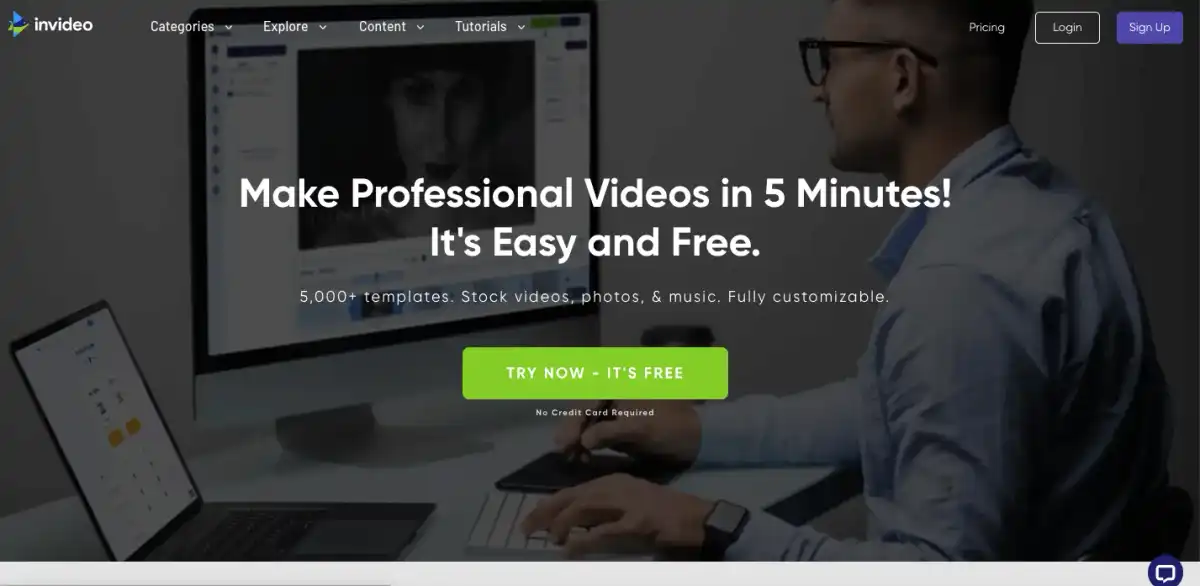 InVideo is another online video editor that makes it easy to add a professional look to your own videos. Similar to the other editors, just create an account, upload your video, select one of their 5,000 plus templates, and enjoy InVideo's editing features, including cropping and trimming, adding text, subtitles, and graphics, and even a text to speech voiceover.
The free online video editor includes all of the above features, though your final product must be less than 15 minutes, and it will include the InVideo watermark.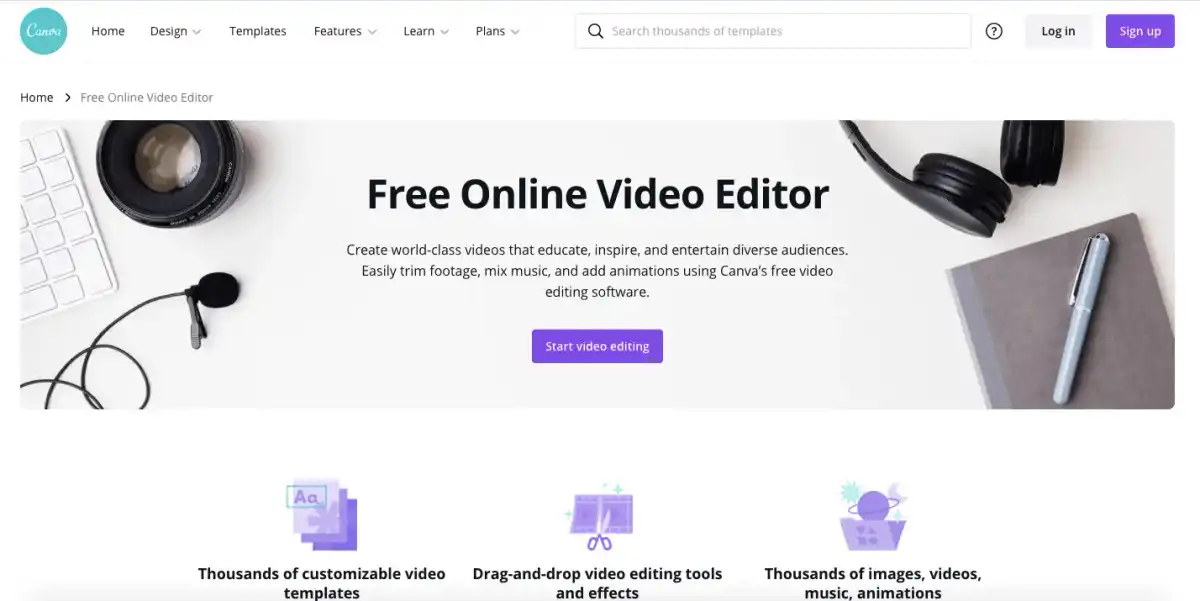 Canva is known for its library of graphic design templates, and they now offer a video maker/editor as well. To create a new video, select one (or more) of the video templates available and take advantage of their simple editing features such as cropping, trimming, adding graphics, and more.
Unfortunately, Canva's free video selection is rather thin, so if you want more options, you'll have to upgrade. In addition, the free plan doesn't allow you to resize your video for social media.
Therefore, if you want to upgrade, Canva's paid plans start at $12.99 per month (or $119.99 per month for the annual plan) for up to five people. All paid plans have access to the same features and only vary based on the number of users per plan.
Try Reduct's Online Video Editor for Free
If you want to try an easy video editor that allows you to edit the video just by editing the text, getting started with Reduct is quick and straightforward – just upload your video, retrieve the transcript, and start making video edits just by highlighting and striking through words in the transcript. For those editing interview videos, podcasts, and other speech-intensive video footage, Reduct is a particularly effective solution that will save hours of tedious editing.
To see for yourself and create your own stunning videos, begin your free trial with Reduct today.
Reduct removes the pain of working with
video.