How to backup your Zoom Cloud Recordings (to free up space when your cloud recording is disabled)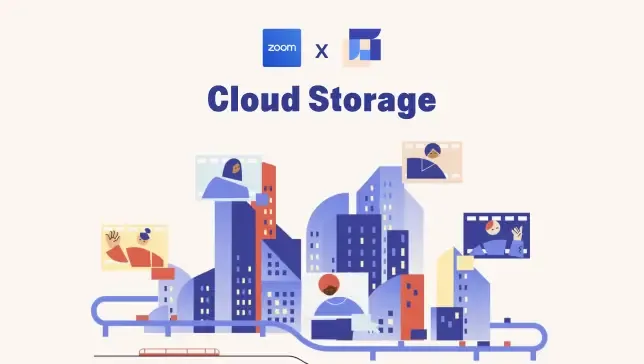 We recently got an email from Zoom- a reminder that we have used more than available cloud storage- 762% more than the 40 GB limit on our plan. 😱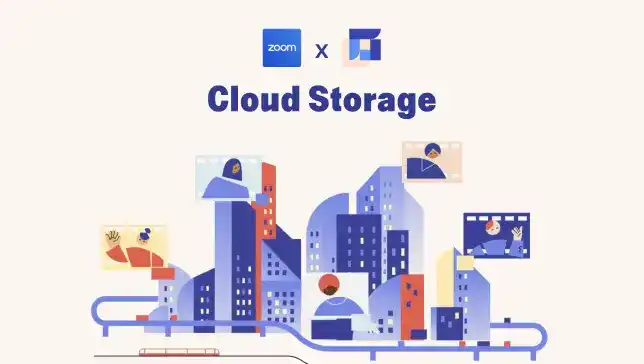 One thing, in particular, stood out to us- the disable date for our Zoom cloud recording. We would be unable to store our meeting recordings on the Zoom cloud after a week of receiving this email.
The alternative of waiting for the recordings to download after each meeting made me tired just thinking about it.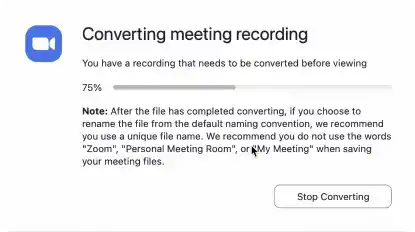 We found that Zoom users have been getting these "warnings," but it seems Zoom has been letting this slide for years.
Jan 19, 2023 Update: Zoom has actually disabled cloud recording for accounts that have exhaused their storage limit.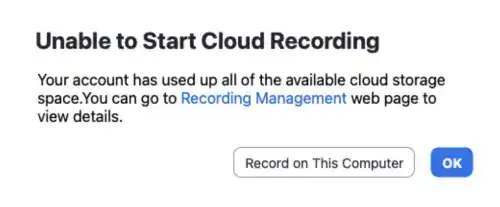 This article will discuss solutions to keep your Zoom cloud recordings enabled if you've exceeded your storage limit.
Delete old recordings
You can always go through your old recordings by logging into your Zoom account and deleting unnecessary videos to free up space. However, it's not always possible to delete old recordings.
When you have 100s of Zoom recordings, it can be a painstaking task to find the ones you can delete and the ones you need to store. And you surely don't want to be the person who deleted the recording of the company's all-hands meeting. 😅
If you have enough space on your hard drive, you can download your old recordings before deleting them from the Zoom cloud as a safe bet.
Buy Additional cloud storage on Zoom
Another alternative is to give in and buy more cloud storage on Zoom. Zoom provides an option to purchase storage as an add-on to your Zoom plan.
You can choose a plan from several options depending on the storage capacity you need.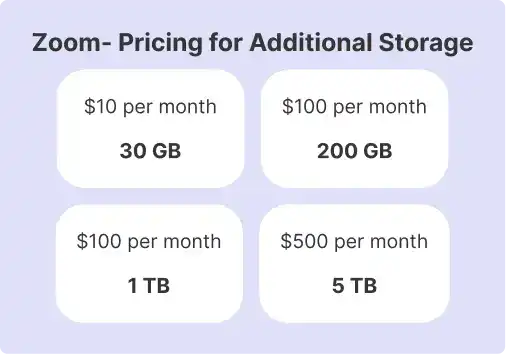 Go to the pricing page on Zoom and buy "Cloud Storage" as an add-on to your plan.
Use a cloud storage solution
Another cheaper alternative is to use cloud storage solutions like Dropbox, Google Drive, or OneDrive. They are more affordable than Zoom cloud storage and offer easy integration to import recordings from Zoom.
You will need to run backups and delete files from Zoom time and again. If your team is already paying for one of these, this might be the most cost-effective solution.
Make your zoom recordings accessible using Reduct
Reduct can work as a repository for your Zoom recordings. Reduct provides an easy workflow to batch import all your recordings from Zoom and securely store them.

Reduct is much more than a video repository since it transcribes every video you upload or import to the platform. Each word in the transcription is synced to the video. Clicking on a word takes you to that moment in the video.
Reduct also has an advanced search feature that can make your videos searchable.
You no longer have to click on each of your recordings on Zoom cloud and preview the video to find the information you are looking for.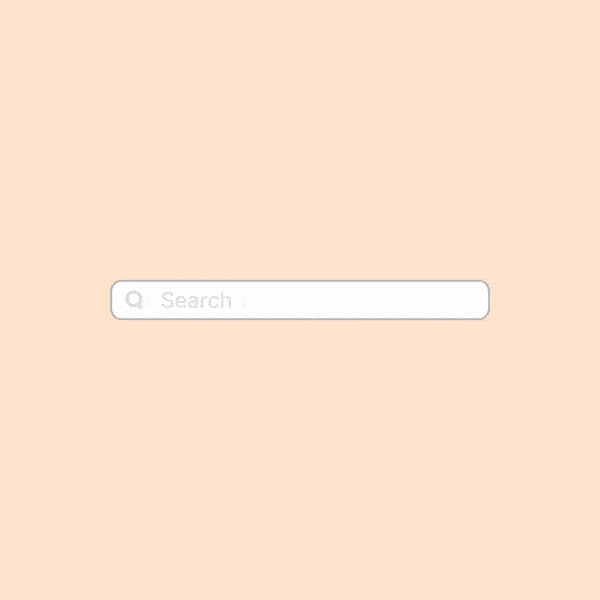 Transcribe and archive Zoom recordings in real time
Additionally, Reduct can help you transcribe your Zoom meetings as they are happening. Copy your Zoom meeting invite link (the same link we'd send to a person), paste it on Reduct, and 'Reduct Bot' takes care of the rest.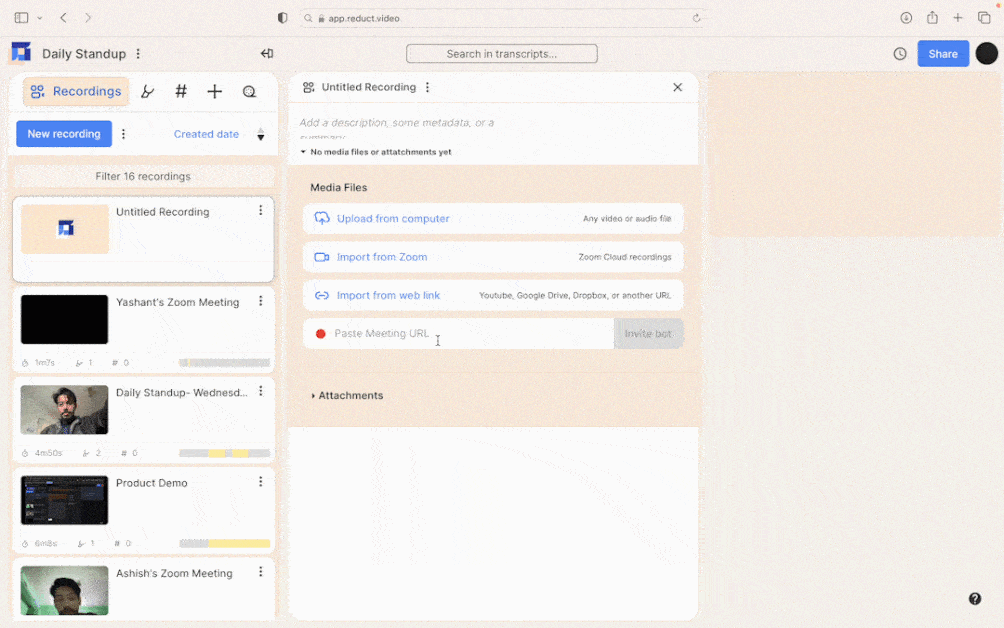 When you are done with the meeting, Reduct automatically stores the video and audio of your meeting recording.
Learn more about Live capture by Reduct here ->
Edit videos as easily as Editing Text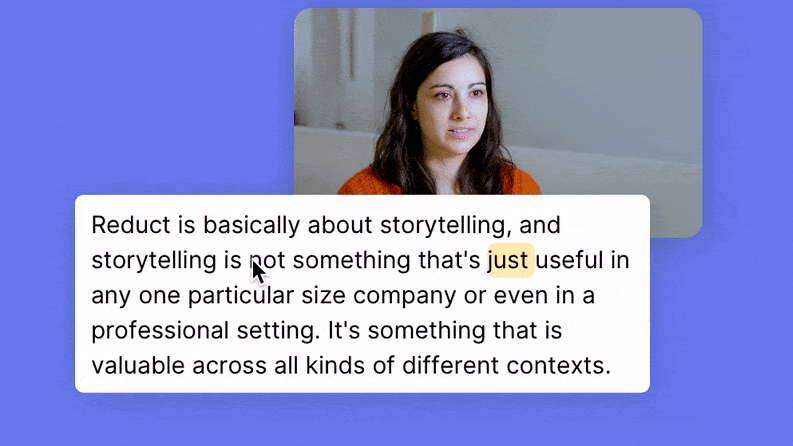 With all your recordings in a single repository, you can now use them rather than let them sit on the cloud for years. Easily find insightful moments from the Zoom recordings, and clip them. You can then drop those clips together to weave together a storyline.
Reduct isn't just a searchable repository for Zoom recordings. It is full-fledged video editing software, and we've made video editing as easy as editing text.
You can give access to the videos to teammates or stakeholders by inviting them through email or a shareable link, just like Google Docs.
Get the most out of your Zoom Recordings
Whether you are looking to store your Zoom recordings or looking for a solution to do more with those recordings, try out Reduct.
To learn more about our video editing features and how you can build unique and engaging video narratives, get in touch with our team to schedule a quick demo.
You can also sign up for a free trial and try out Reduct.
Reduct removes the pain of working with
video.